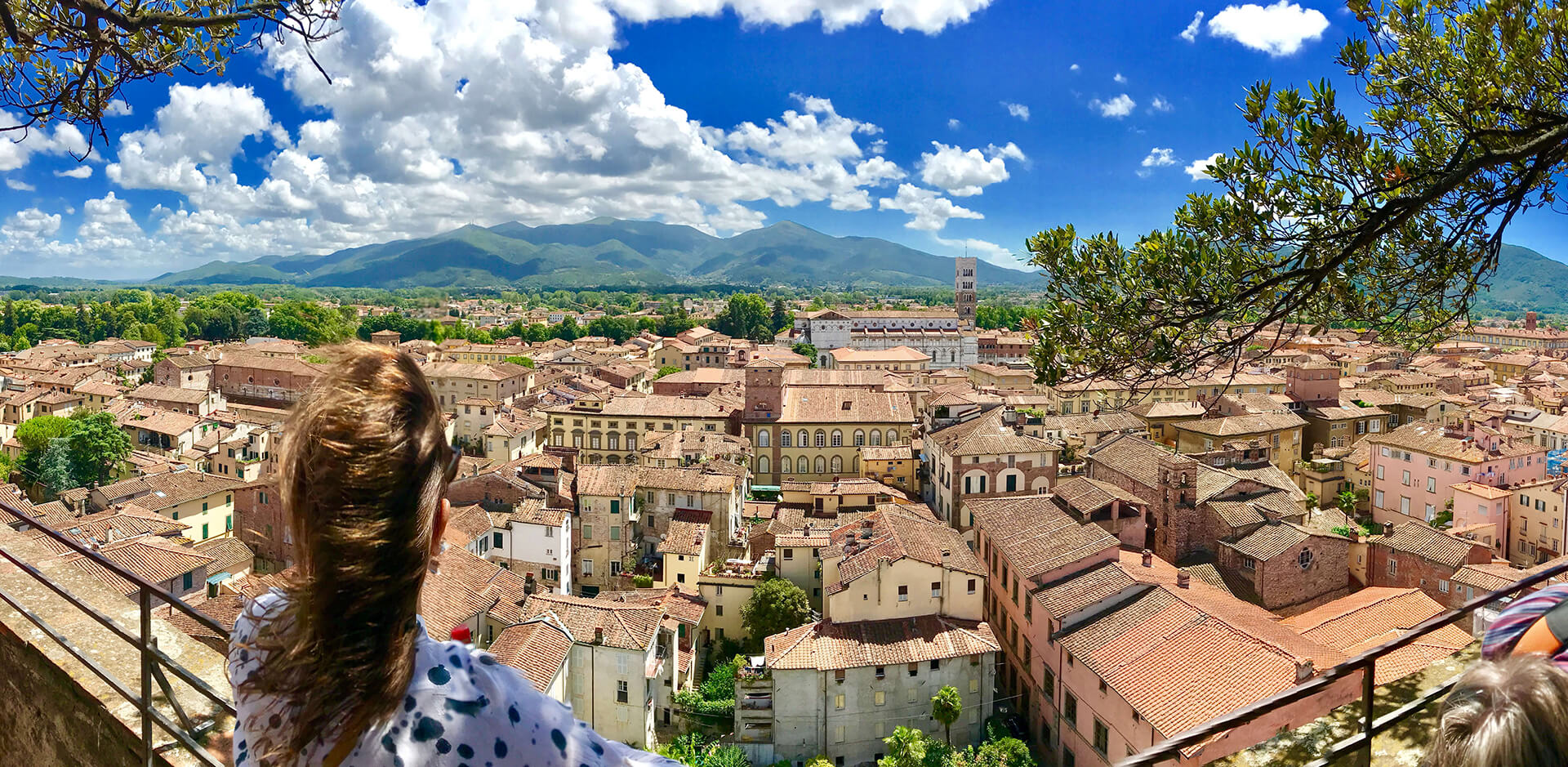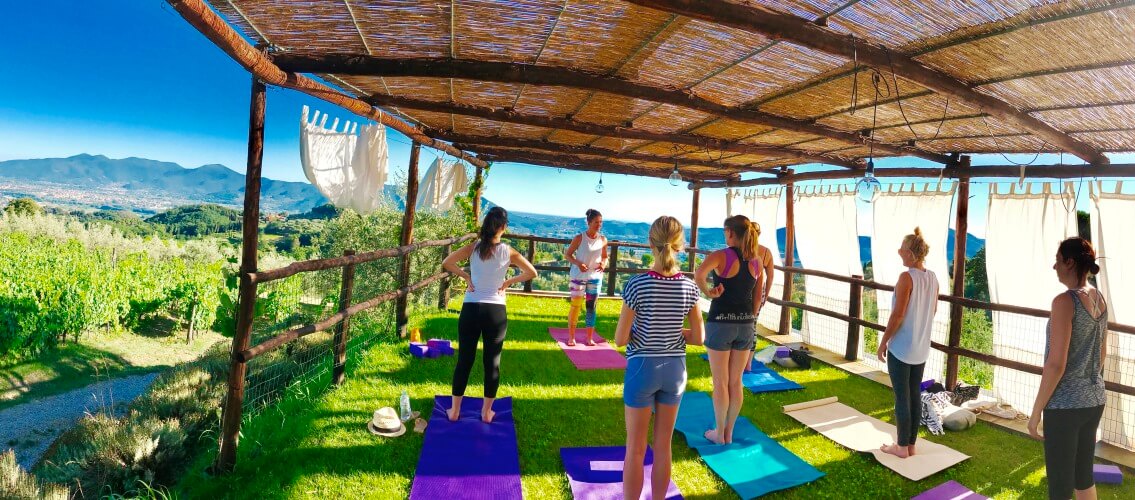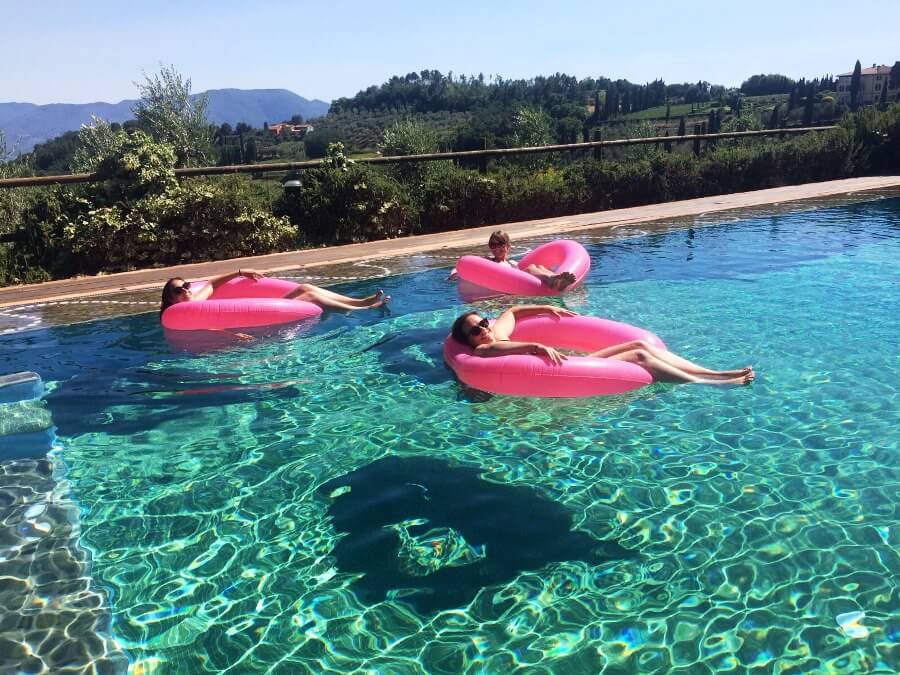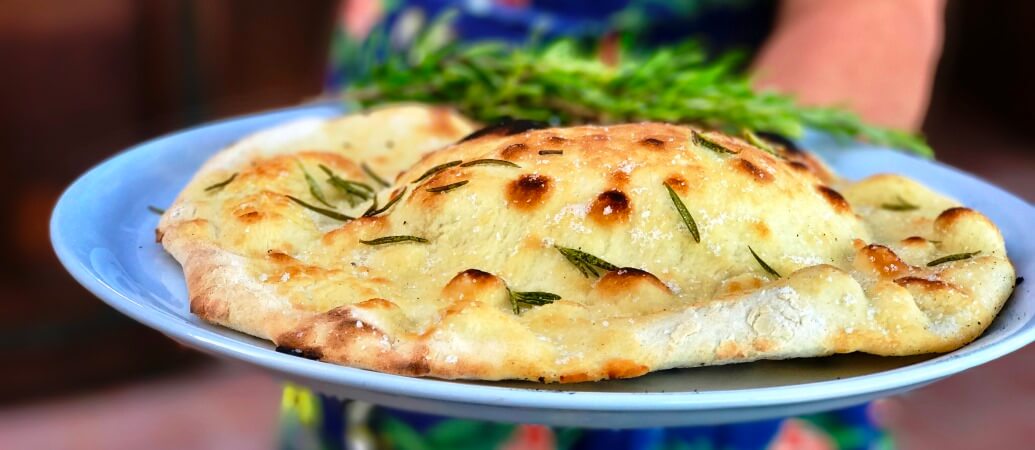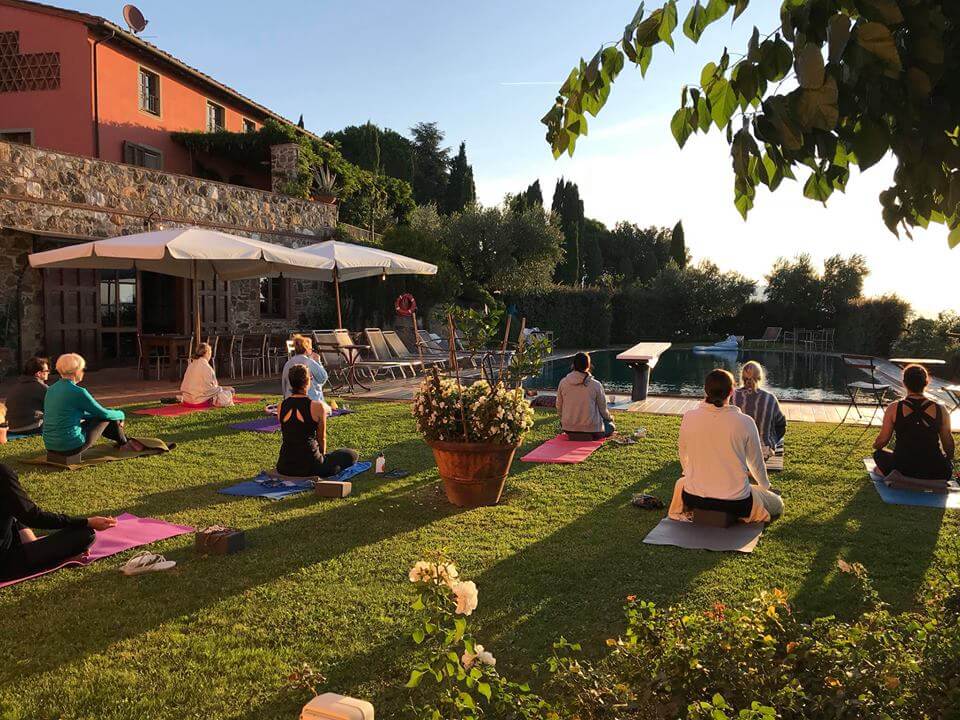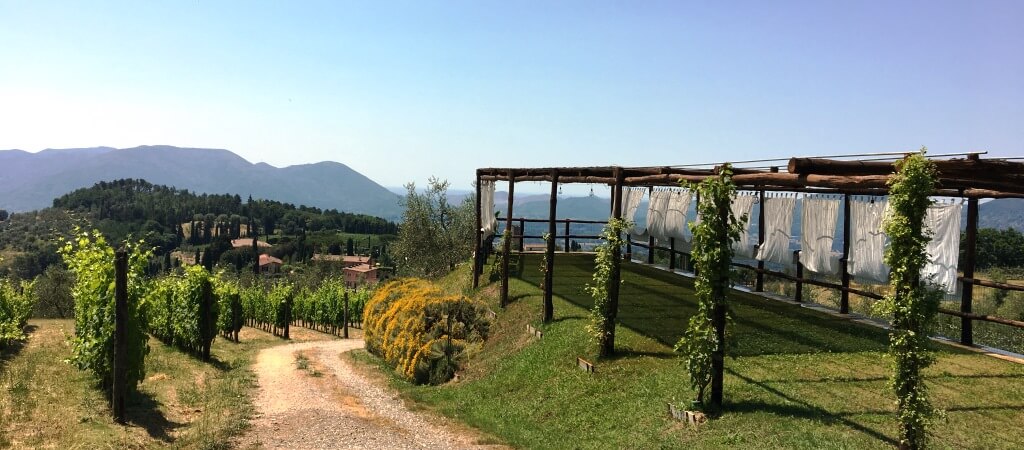 JUNE 11 – 18, 2022 |

YOGA RETREAT IN TUSCANY

with MEL TOTH
Equilibrio: a state in which opposing forces or influences are balanced. A calm state of mind.
Join Mel for an immersive experience of returning to YOU, set among the olive groves and vineyards of the iconic Tuscan landscape.
The Retreat
Mel is returning to Il Borghino, just outside of  the quaint city of Lucca, to share her balanced approach to yoga and well-being with one goal: helping you return to your most vibrant version of YOU.
Spend 7 days and 7 nights in our exclusive retreat centre, rising each morning for an energizing, all-levels vinyasa experience and finishing the day with a gentle, restorative wind-down.
What to expect
Hand-picked excursions, guided meditations and yoga nidra will be sprinkled throughout, along with plenty of time for lounging by the salt-water pool and exploring the spectacular grounds and area surrounding Il Borghino. Family style dining will provide ample opportunity for connecting with your fellow travelers while experiencing some of the best home-cooked, authentic Italian cuisine you'll ever taste.
Come realign your path and follow your own inner light to YOU on this spacious, supportive journey toward the true home that resides in each of us. Let the natural charm of the Italian culture and countryside, and the good company of friends, old and new, help bring you back to a place of greater ease, clarity, and connection to your Self and others.
The Yoga
All levels of practitioners are welcome on this retreat. Expect a flowing style in the morning to prepare you for the day and a gentle/restorative experience in the afternoon, after your time exploring Italy.  Mel's knowledge is at the ready to offer modifications to all levels as needed.
All classes will focus on breath and body connection. There will be additional opportunities for guided meditation and guided relaxation. We have access to a fully-equipped yoga studio with Manduka mats, bolsters, blankets and straps as well as a stunning outdoor yoga shala set amongst  vineyards and olive trees. With incredible views to the surrounding country side and the valley below, this is the perfect space to practice our sunset restorative yoga sessions.
Location
Our retreat home for the week will be Il Borghino – which boasts comfortable lodging in four beautifully-renovated buildings, an outdoor salt-water pool, and delicious meals of farm-to-table vegetarian Tuscan cuisine — complete with local olive oil and wine. We have access to a fully-equipped yoga studio, as well as multiple outdoor spaces should we prefer to practice overlooking the valley below.
The estate is booked solely for our group of travelers and is located just 10 km from the charming medieval city of Lucca. Il Borghino offers an opportunity to truly relax and unwind in a unique location whilst experiencing the best that Tuscany has to offer.
About Mel Toth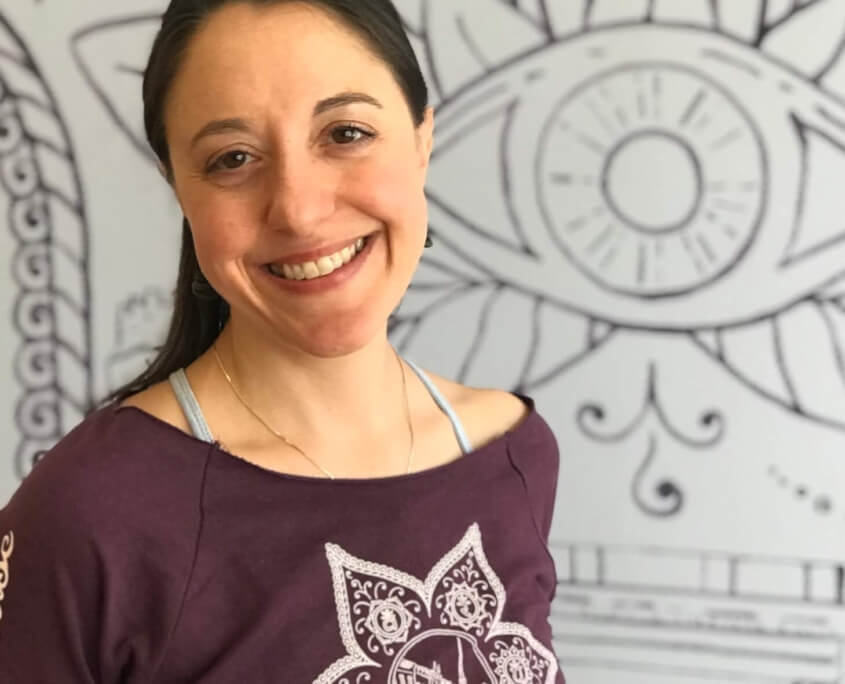 In 2013, Mel completed Shakti's 200 hour teacher training and has been teaching yoga to students of all ages ever since.
Teaching Style
Mel's classes focus on understanding the fundamentals of asana (poses) through the use of props (blocks, blankets, straps, chairs, bolsters) and movement exploration, while emphasizing the discovery of personal alignment, balance and relaxation.
Through honest sharing and gentle humor, Mel creates an atmosphere of acceptance where students are invited to explore mindful movement, personal alignment and conscious stillness.  She is passionate about the power of supported, reclined poses paired with guided breathing and relaxation techniques to change the body/mind's relationship to physical and emotional pain patterns; this makes teaching gentle and RESTorative yoga her specialties.
Mel is he is forever grateful to her first yoga teacher, Jill Gnassi, whose expert Iyengar instruction taught her how attending to small details could make a huge difference in life
More details about Mel on www.theyogahouseny.com
What's Included?
7 nights accommodations at Il Borghino in Lucca (including linen and towels)
Home made Tuscan vegetarian food created with love by the amazing Maria-Angela (3 meals/day except 1 x lunch when on coastal hike and 1 x dinner when on Lucca evening outing) + local wine for dinner
Healthy juice for breakfast, unlimited fruit, water and herbal teas throughout the day
3 excursions
Local wine at dinner, 1/2 bottle per person, per night.
Unlimited fruit, water, and herbal tea throughout the day
Last night celebratory dinner with Prosecco and pizza, fresh out of the wood-fired pizza oven at Il Borghino
Transfer from/to Lucca to/from the retreat centre on the day of arrival and departure (Note: one scheduled pick-up and drop-off only.  Transfers outside of the scheduled times can be arranged for an additional fee.)
Use of outdoor salt-water pool and common areas
Assistance and advice from retreat concierge to arrange optional excursions
Laundry facilities in each house, hair dryers and pool towels
Free Wi-Fi
Tourist tax
What's Not Included?
Airfares (Suggested Airport Pisa)
Travel insurance
Airport Transfers
Two meals out during excursions to coastal hike + Lucca
Other travel related expenses outside of the retreat
Optional in-house treatments such as massages and facials.
Optional activities other than those specified as included in the retreat price
Other travel-related expenses
Retreat Prices, per person
Deposit must be made by Jan. 10, 2021. There are 4 accommodation options and a total of only 10 rooms available, so early registration is recommended.  The prices listed below are Early Bird Pricing. Price is $225 more if deposit ($500) is made AFTER January 10, 2021.
Room Type 1:  $2300 USD per person
Shared twin room + shared hallway bathroom. (2 people per room).
2 rooms / 4 places available.
Room Type 2:   $2475 USD per person
Shared twin Room + Private bathroom. 2 single beds, (2 people per room).
3 rooms / 6 places available.
Room Type 3:   $2475 USD per person
Shared Double Room + Private Bathroom. 1 double bed best suited for couples.  (2 people per room).
2 rooms /4 places available.
Room Type 4:   $2700 USD per person
Single Room + Private Bathroom. (1 person per room).
2 rooms / 2 places available.
Cancellation Policy
Please note that deposits are non-refundable.  Travel insurance is strongly recommended if you need to cancel for any reason.
If you have any questions about this retreat, please click on the button "Reserve Your Place".
Transport Options – Getting to and From Il Borghino
The nearest airport to Lucca is Pisa international Airport "Galileo Galileo" – 18 Miles from Lucca
Florence International Airport "Amerigo Vespucci" is 50 Miles from Lucca
If you are flying into Rome, Fiumicino Airport is 162 miles from Lucca.
Regular trains and buses run from both Pisa and Florence airports to Lucca and are very reasonably priced. Trains also run regularly from Rome airport but the trip is much longer and takes around 4.5 hours.
Check-in and Check-out
Check-in at Il Borghino is strictly 4pm on the day of arrival.
When booking your flights, we recommend you plan your arrival time in Lucca for around 15:30pm, to coincide with the group transfer to Il Borghino at 3:45pm.  There will be one scheduled pick-up only. Please email your arrival details to info@yogainitaly.com  as soon as they are available.  If you are unable to make the pick-up,  we can arrange for a taxi to bring you to Il Borghino.
Check-out at Il Borghino is strictly 09:30am on the last day. Please plan your departure flights accordingly.