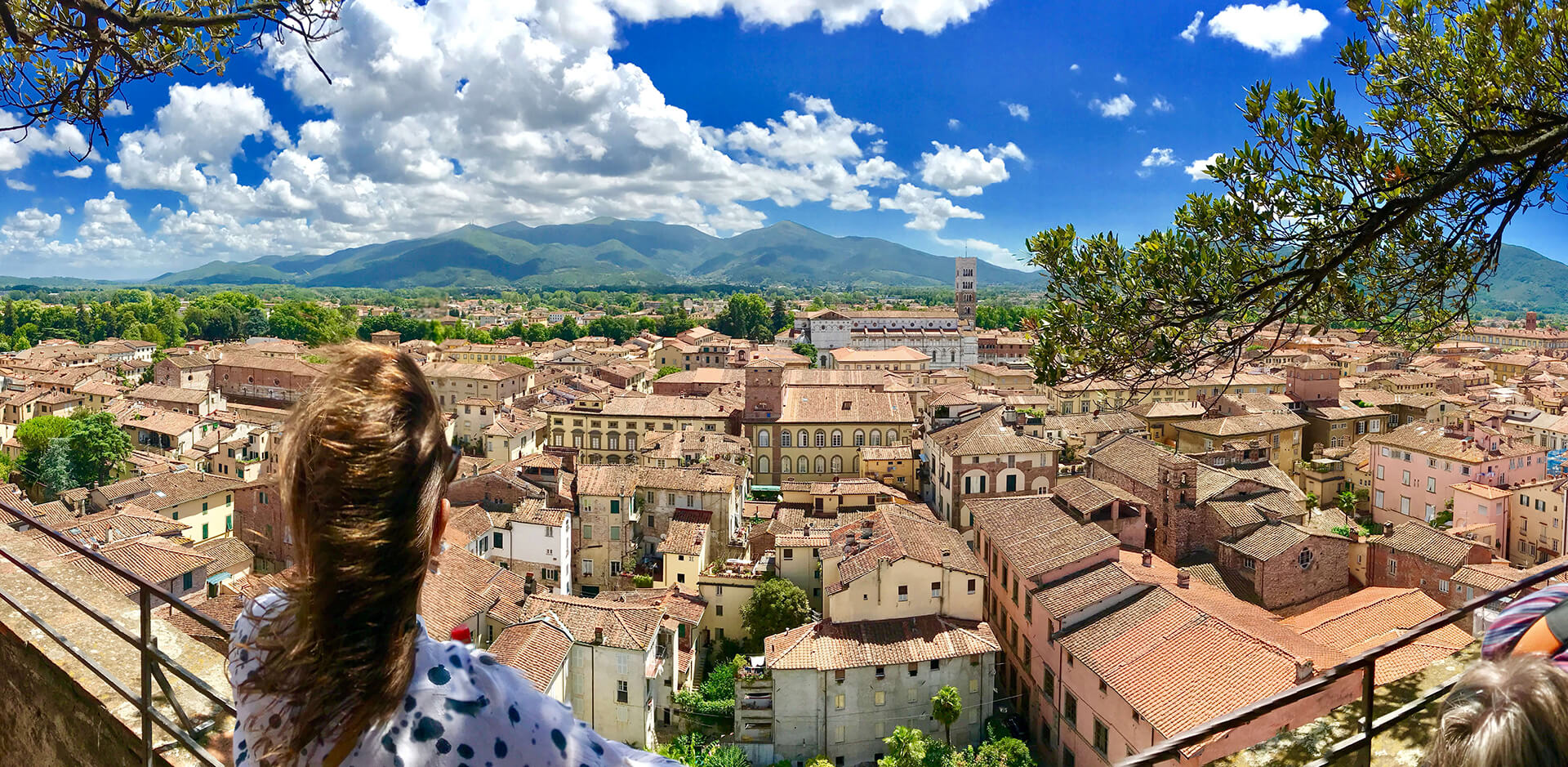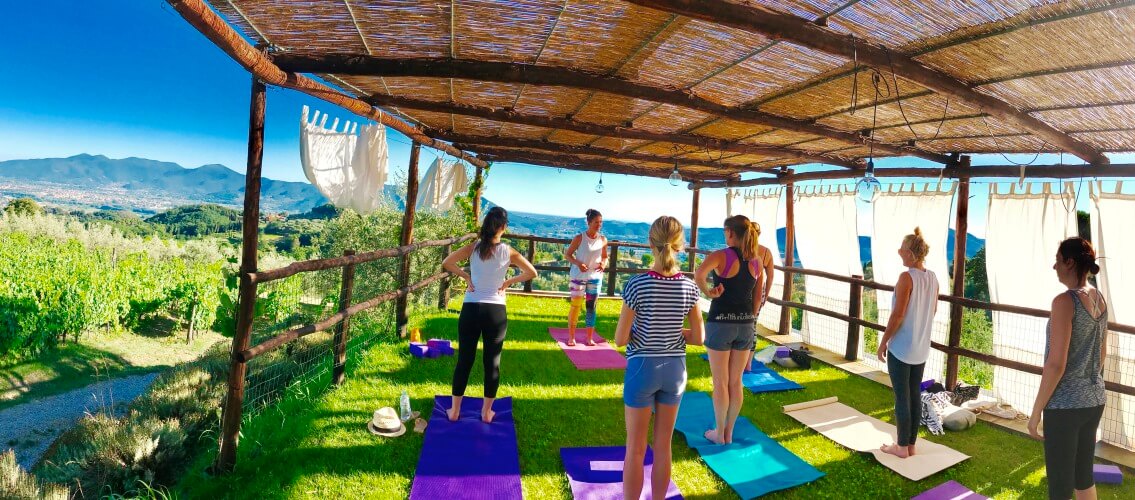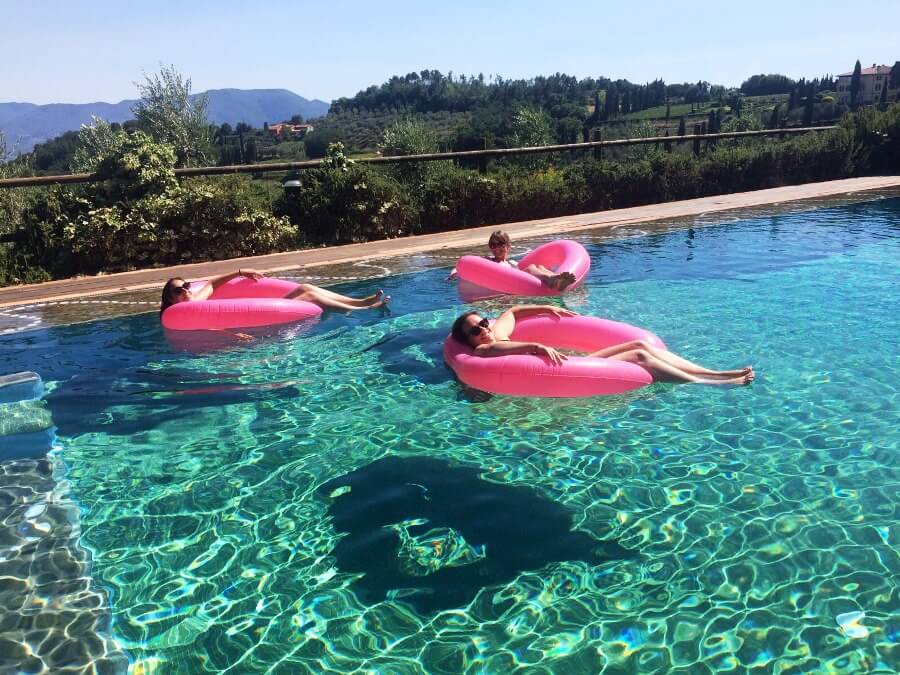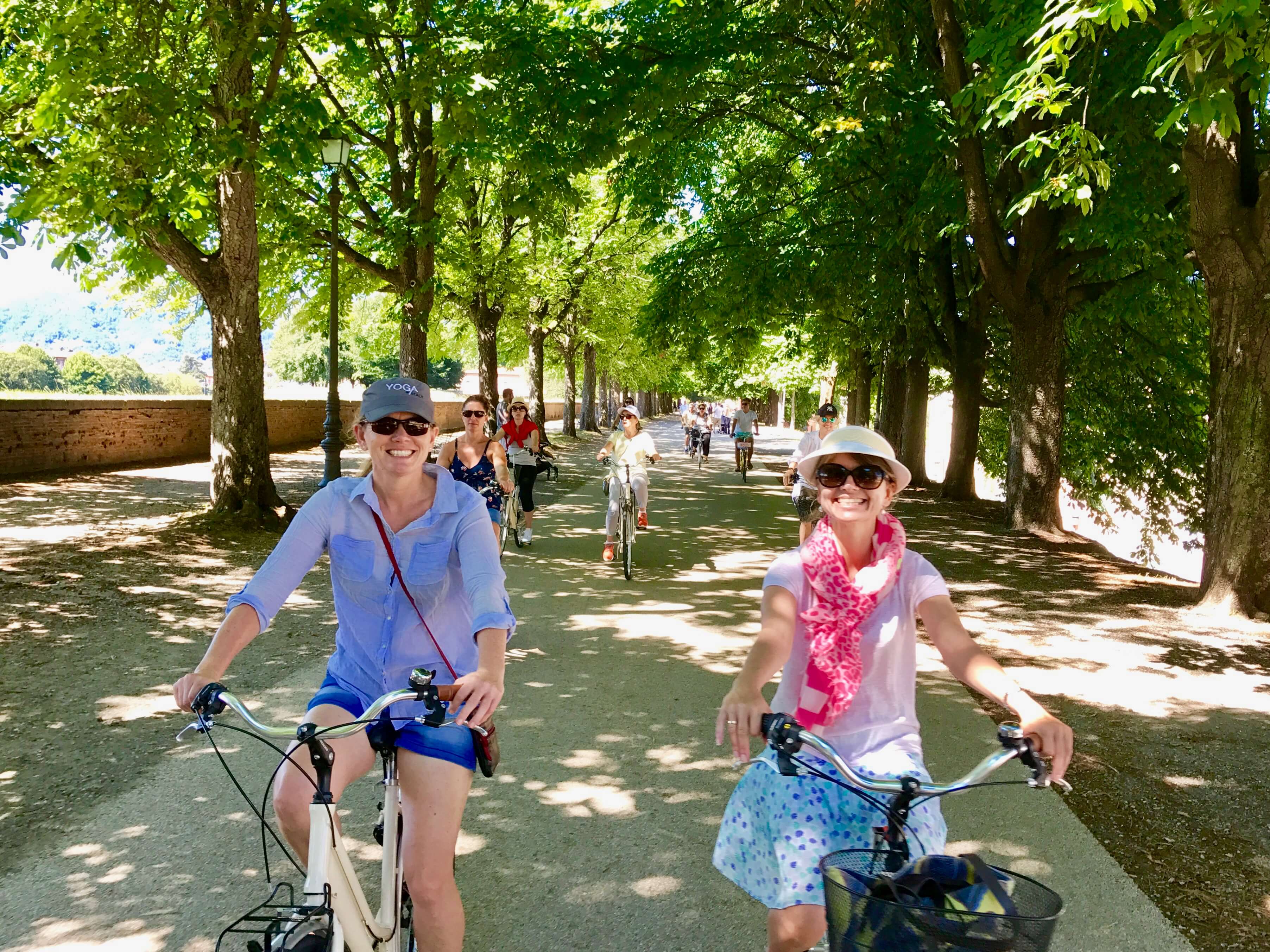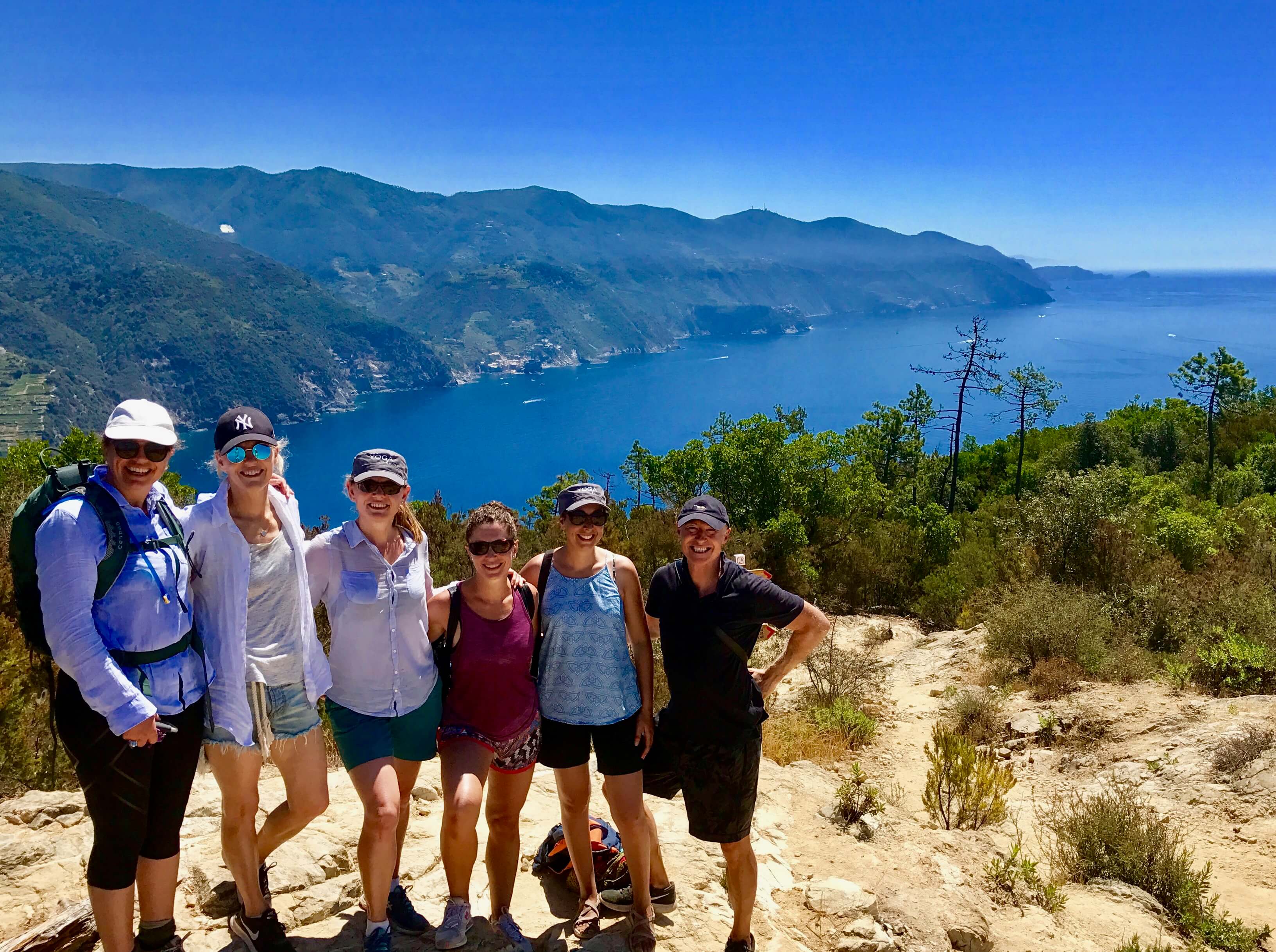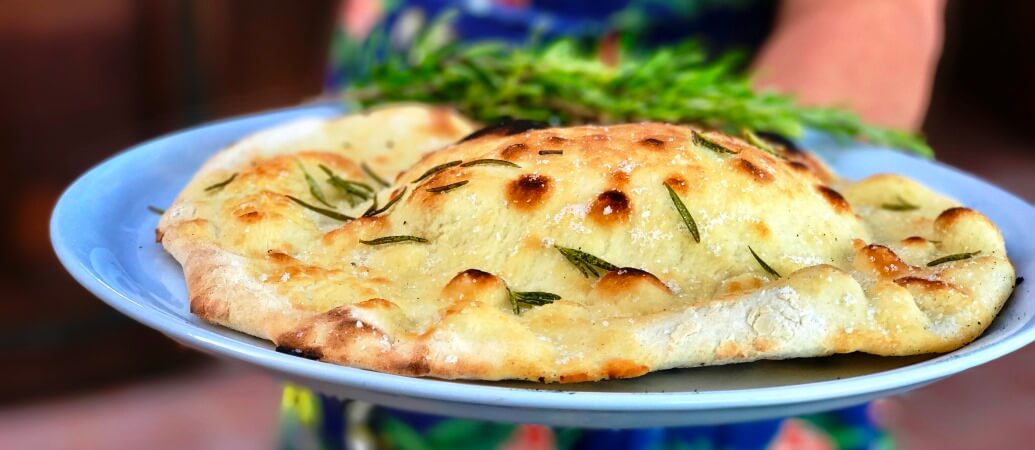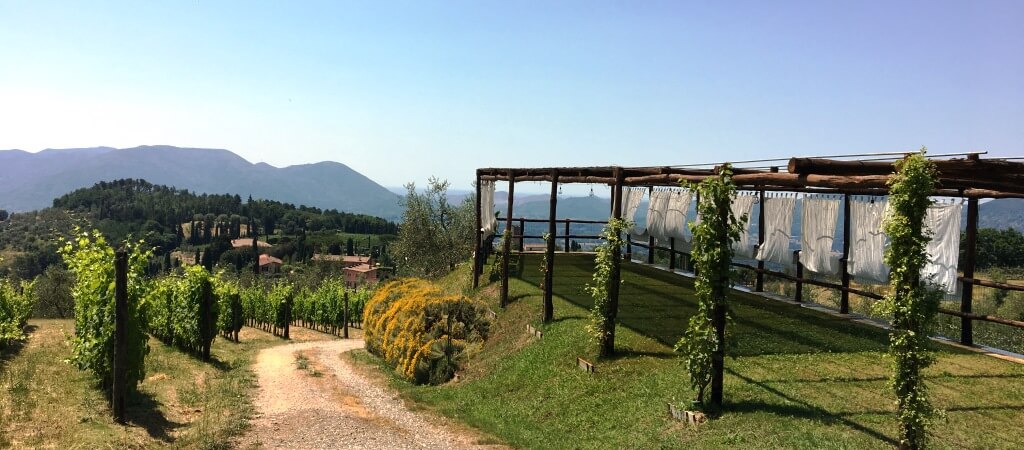 OCTOBER 8 – 15, 2022 | LA DOLCE VITA YOGA HOLIDAY IN ITALY WITH MATTHEW MITLAS + TONI TROUT
"

An authentic Yoga practice comes from listening to your own body

"
Join Matthew Mitlas and Toni Trout for the Italy Yoga Holiday of your dreams!
Nestled deep in the rolling hills of Tuscany, between age-old olive groves and sweet scented vineyards, awaits Il Borghino-"small village," a magnificent 20th century estate just fifteen minutes from the medieval town of Lucca. The Tuscan sun shines brightly on the rustic terra cotta roofs of the 3 houses on the estate, the mild October earth awaits the kiss of your feet, farm-fresh meals cooked lovingly by an Italian Nonna await the table… Welcome home.
Yoga
During your yoga holiday in Tuscany,  you will practice yoga twice per day in Il Borghino's beautifully equipped indoor AND outdoor yoga studios, listen to uplifting daily Dharma (philosophy) talks.  In addition, you will enjoy home-cooked vegetarian meals and take time to explore Tuscany with 3 included excursions. Lastly, you will create friendships that last a lifetime!.
What's Included in Your Yoga Holiday?
Included in the price of this yoga holiday are twice daily yoga & meditation classes and Dharma talks, a Coastal Paradise hiking excursion, a wine tasting, a cooking class and one  complimentary turkish-sauna/steam room session.
Our final night will be filled with a celebratory pizza & prosecco dinner together.  All meals are included except one lunch out on Wednesday during out all day excursion to the seaside and one dinner out.   However, there will still be plenty of free time in which you to participate in other optional other activities, spa treatments or simply just soaking up life at Il Borghino.
Yoga Spaces
We have access to a fully-equipped yoga studio with Manduka mats, bolsters, blankets and straps as well as a stunning outdoor yoga shala set amongst  vineyards and olive trees. With incredible views to the surrounding country side and the valley below, this is the perfect space to practice our sunset  yoga sessions, weather permitting.
Location
Our retreat home for the week will be Il Borghino, a beautiful estate that has been restored to provide elegant comfortable living in authentic Tuscan style.  Wood beamed ceilings, stone, terracotta, marble – each bedroom has a gorgeous view of the Tuscan countryside.   The estate is booked solely for our group of travelers and includes an  outdoor salt-water pool, large communal living areas, a steam room and much more.
About Matthew Mitlas
"Matthew is frequently recognized for his work teaching brand- new beginners."
Matthew is a certified Reiki Level I practitioner, has completed basic level training in Zero Balancing (a leading-edge, highly effective and gentle body work), completed Balanced Body's Barre/Pilates Fitness training, has completed hours of study in sound healing with Jill Mattson, and is an Independent Product Consultant for dōTERRA Essential Oils. He is also a writer- commissioned to write Yoga and wellness blogs for various Yoga studios and has even been published with MindBody Online's blog share.
Experience
While preparing to move to Connecticut in 2011 to study vocal performance, Matthew took his first yoga class and immediately felt a deep connection to Yoga. He subsequently  started practicing daily, and was soon sharing the practice with his friends, family, and even strangers – Yoga was all he talked about! He soon realized his natural understanding for Yoga philosophy and a keen desire to learn more was leading him down a very different path than expected. That same year, Matthew made a life-changing decision to move back to Pennsylvania to further his studies in Yoga and Mindfulness; embarking on a life-long path as a Yoga teacher.
Training
A short three months later Matthew met his mentor Connie Miller, Master Yoga Instructor with 40+ years experience, while taking a credited Yoga course at the local college. For two years, Matthew and Connie worked privately through a highly personalized and custom 200+ hour, Alliance certified, teacher training. He has since been certified to teach women with breast cancer by Allison Donley, E-RYT 500, children of all ages by Sally McNeil Delisle, E-RYT 500, of Childlight Yoga, and most recently completed an Advanced Teacher Training (75 hr) with internationally renowned teacher Alex Auder (Magu Yoga.)
More details about Matthew at www.matthewmitlas.com
What's Included in Your Yoga Holiday?
Twice daily yoga + meditation classes with Dharma talks ( including use of yoga room, yoga mats, blocks, blankets, belts, and bolsters, plus additional yoga mats for use outdoors)
7 nights' accommodation at villa, linens and towels
3 delicious vegetarian meals daily, except for one lunch out on Wednesday  and one dinner out on a day to be decided.
Fresh detox fruit / vegetable juice at breakfast
Local wine at dinner (1/2 bottle per person, per night)
Coastal Paradise Hike – Day Trip
Group cooking class with local cook
Wine and olive oil tasting excursion (we go on foot)
Unlimited fruit, water, and herbal tea.
Last night celebratory dinner with wood-fired pizza and prosecco!
Transfer from/to Lucca to/from the retreat centre on the day of arrival and departure (one scheduled pick-up and drop-off only).
Outdoor salt-water pool and large communal living areas
Pool Towels, Hair dryers and laundry facilities
Free Wi-fi
Tourist tax
Retreat Prices, per person
All prices listed reflect EARLY BIRD VIP PRICING.   Prices will increase Jan, 2020.
Il Borghino offers 3 types of rooms in 3 different houses on campus, all very close to the communal area. Room styles are allocated on a first come, first
serve (once deposit is received) basis.
*Roommates: If you need a roommate, tell Matthew and he will add you to the roommate interest list!
Room Type 1 – Twin room + shared hallway bathroom. (2 guests per room / 4 places available) $2150 (USD) per person  
Room Type 2 – Twin room + private bathroom (2 guests per room / 6 places avaialble) This room can be converted to King Bed for a couple $2250 (USD) per person. Note that some bathrooms may be located outside the room (not ensuite) but it is still a private bathroom for that room.
Room Type 3 – Single Room + Private Bathroom. (1 guest per room / 2 places avaialble).  $2400 (USD) per person . Some double rooms can be made into singles for additional cost on a circumstantial basis. 
Transport Options – Getting to and From Il Borghino
The nearest airport to Lucca is Pisa international Airport "Galileo Galileo" – 18 Miles from Lucca
Florence International Airport "Amerigo Vespucci" is 50 Miles from Lucca
If you are flying into Rome, Fiumicino Airport is 162 miles from Lucca.
Regular trains and buses run from both Pisa and Florence airports to Lucca and are very reasonably priced. Trains also run regularly from Rome airport but the trip is much longer and takes around 4.5 hours.
Check-in and Check-out
Check-in at Il Borghino is strictly 4pm on the day of arrival.
When booking your flights, we recommend you plan your arrival time in Lucca for around 15:30pm, to coincide with the group transfer to Il Borghino at 3:45pm.  There will be one scheduled pick-up only. Please email your arrival details to info@yogainitaly.com as soon as they are available.  If you are unable to make the pick-up,  we can arrange for a taxi to bring you to Il Borghino.
Check-out at Il Borghino is strictly 09:30am on the last day. Please plan your departure flights accordingly.