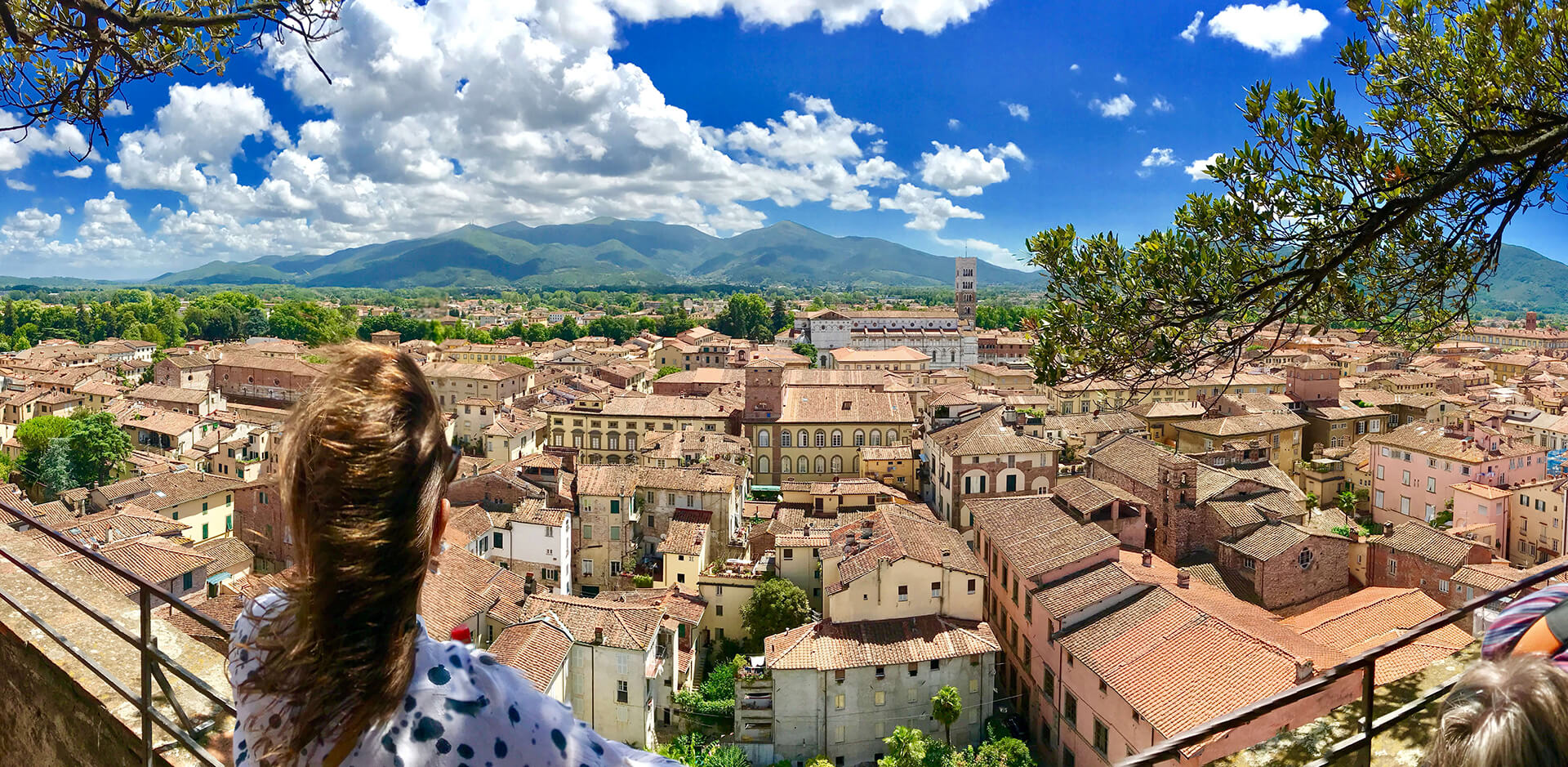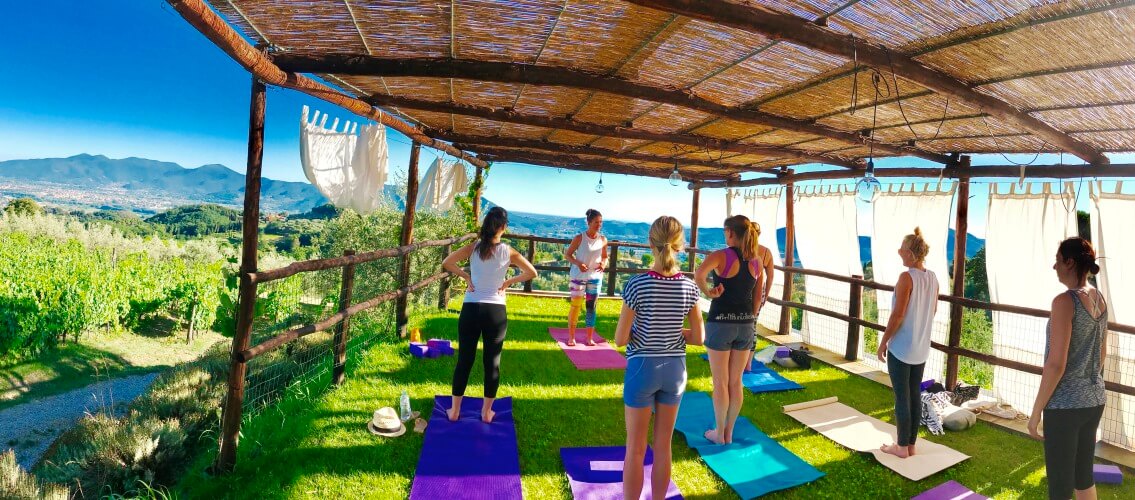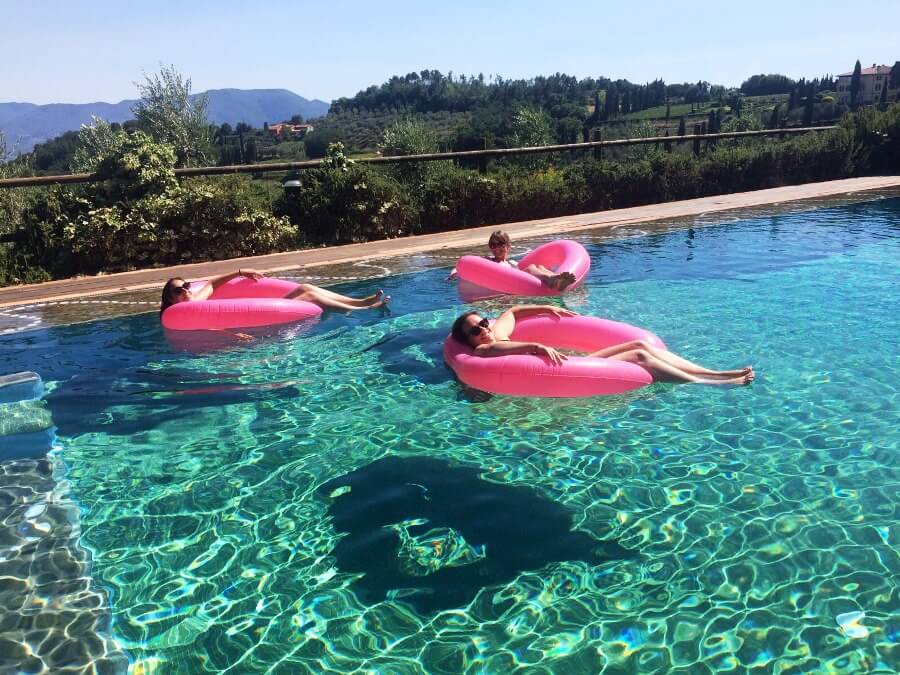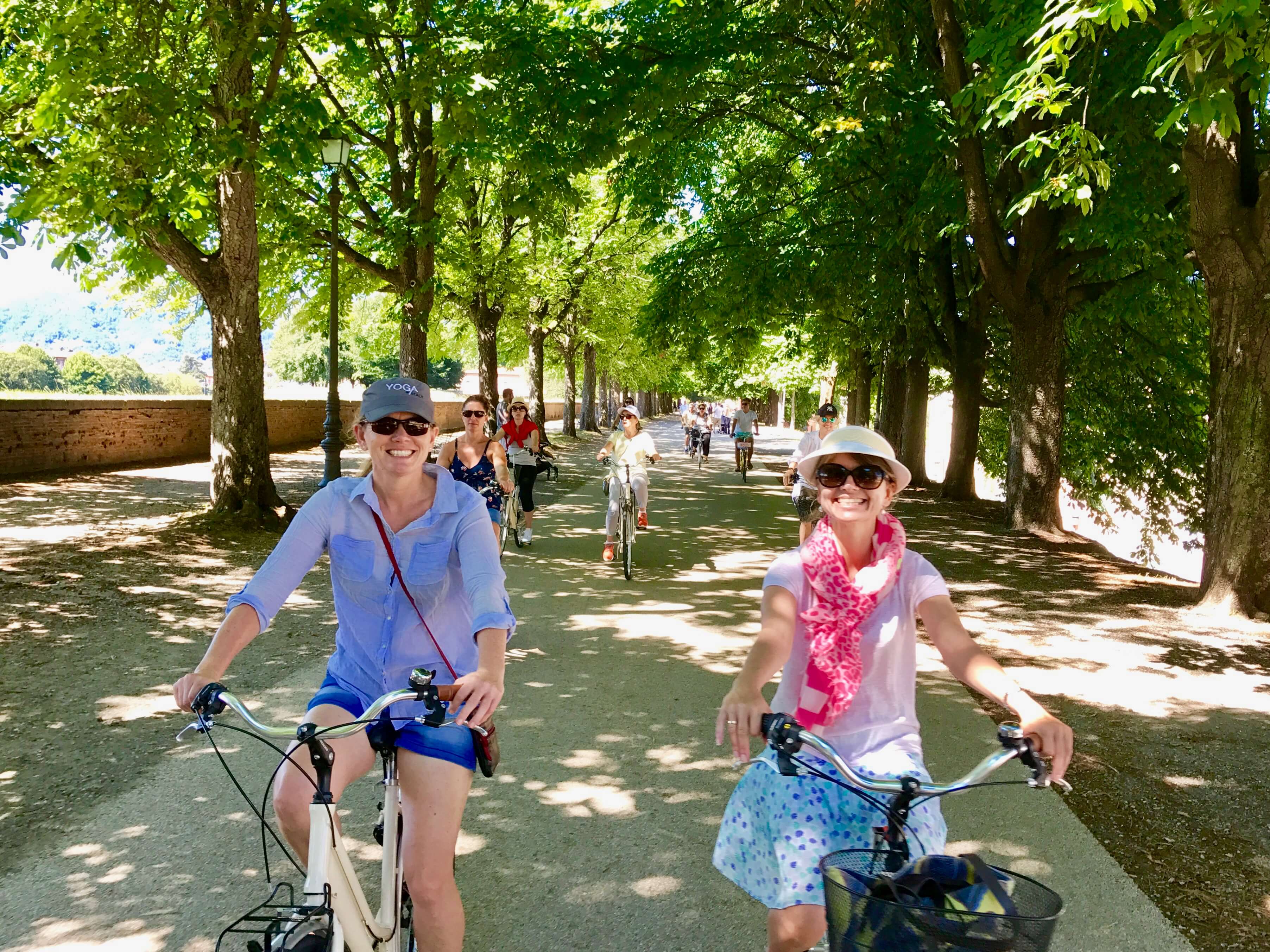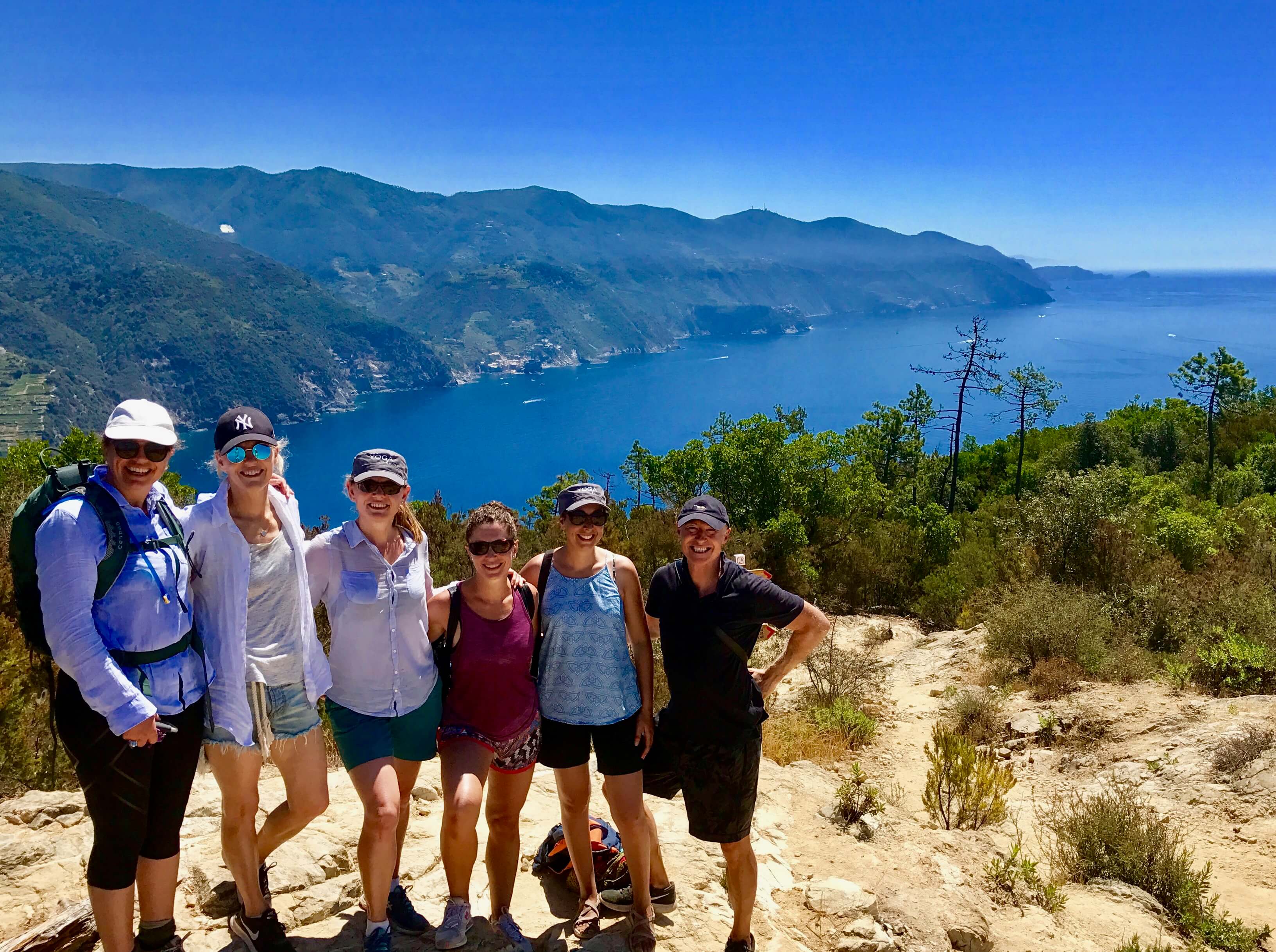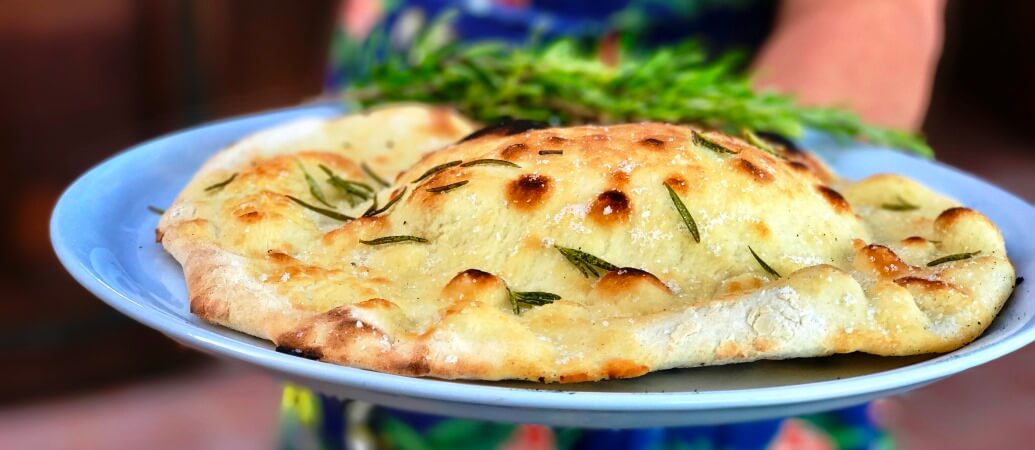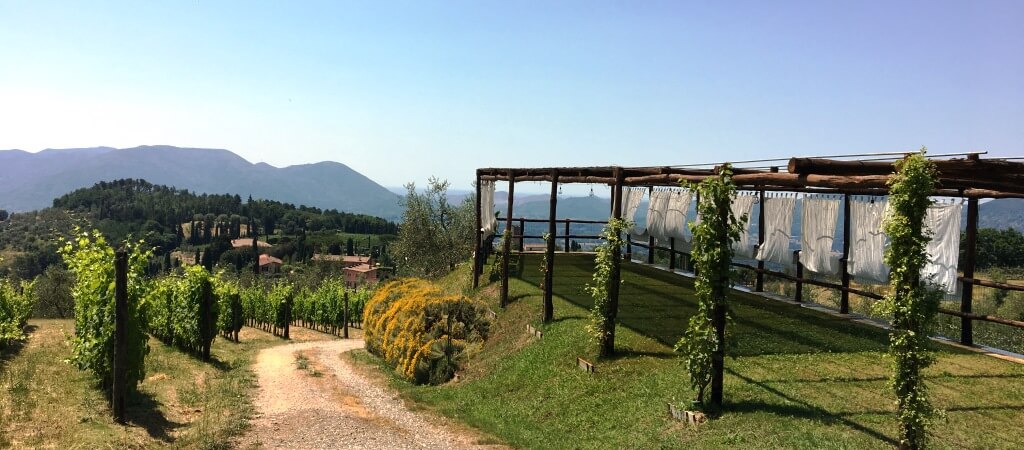 JULY 7 – 14, 2018 | LA DOLCE VITA ITALY RETREAT

with ANGIE HALL
"Rain or blessings may fall down from the heavens, but if you only hold up a thimble, a thimbleful is all you will receive". Ramakrishna
Join Angie Hall for an unforgettable summer time retreat in the beautiful medieval town of Lucca in Tuscany!  The theme of our retreat is "La Dolce Vita" – the sweet life!  Each day involves an energizing morning yoga practice and an afternoon restorative practice and the retreat is open to students of all levels.
Since there are so many things to do on this retreat, it is a great opportunity to bring along friends or family who may not be interested in the daily yoga practices but who would be inspired by the culture of Italy and the chance to unwind, explore, meet new people and join in the excursions and optional activities.
Location
Our retreat home for the week will be Il Borghino – which boasts comfortable lodging in four beautifully-renovated buildings, an outdoor salt-water pool, and delicious meals of farm-to-table vegetarian Tuscan cuisine — complete with local olive oil and wine. We have access to a fully-equipped yoga studio, as well as multiple outdoor spaces should we prefer to practice overlooking the valley below.
Day trip to Cinque Terre
Included in your retreat is a day trip to the breath-taking Cinque Terre exploring the five coastal villages embedded in rocky cliffs along one of Italy's most scenic stretches of Liguria. For those who are hikers, it is possible to spend a day walking and climbing between these beautiful villages and enjoy some spectacular scenery along the way. For others, you can still enjoy walking the more gentle trails, spend time swimming, exploring the villages or sampling some of the local delights.
Local Tuscan wine tasting trip
Also included is a wine tasting excursion to a local bio-dynamic winery. We go by foot along the "Strada del Vino" (the wine road) and after a toyr of the winery and gardens, we settle in to taste some excellent wines. The estate also produces  olive oil, honey and pasta.  The scenery is beautiful, overlooking vineyards and olive groves.
Optional Activities
There are also other choices of optional activities and excursions, designed to give you a taste of Tuscany and the local culture, without it feeling like a organized tour.  For example, enjoy a walking/biking tour of the enchanting village of Lucca, an afternoon soaking up the healing waters in a thermal spa, an evening in the thriving artist village of Pietrasanta, a relaxing massage or spa treatment or a cooking class with our very own cook!
About Angie Hall
My love affair with the practice of yoga began 17 years ago.  I started practicing because the movement-with-music felt like a beautiful sacred dance and felt wonderfully reminiscent of my time as a ballet dancer.  The story of how I found yoga, isn't as important as why I've continued to unroll my mat , day after day, for 17 years.  In the beginning, my practice was purely physical, but class after class, week after week, the inexplainable, subtle, yogic shift started working its magic. Every time I unroll my mat, I experience a glimpse of the alluring magic that the practice unveils.  The "alluring magic" is nothing more than an unmasking  of who we think we are, with who we really are.  There are so  many intricate layers of wisdom and truth embedded in the sacred ancient practice.
​Training
It took me 10 years of practicing yoga to finally have the courage to become a teacher.  In 2010 I completed my 200 hour teacher training, and since then I've traveled to India 3 times to study yoga.  During my time in India, I completed my 500 hour yoga training, and most recently, I completed my Master Level training under Anand Mehrotra, studying Sattva Yoga.  Teaching has become my life. There's something so beautiful about being a facilitator in the evolution of students on their path of Self Growth.  
More details about Angie on www.angiehallyoga.com
What's Included?
2 Daily Yoga Practices + Meditation with Angie
7 nights' accommodation at villa, linens and towels
3 delicious vegetarian meals daily, except for one lunch out on Wednesday and one dinner out on a day to be decided. On these days, guests are free to explore on their own, choosing optional excursions or a night out in Lucca.
Fresh detox fruit / vegetable juice at breakfast
Local wine at dinner (1/2 bottle per person, per night)
Unlimited fruit, water, and herbal tea throughout the day.
Transfer from/to Lucca to/from the retreat centre on the day of arrival and departure (one scheduled pick-up and drop-off only). transfers outside of the scheduled pick-up and drop off are not included.
Daily yoga practice and use of yoga room, yoga mats, blocks, blankets, belts, and bolsters, plus additional yoga mats for use outdoors
Use of the outdoor salt-water pool and common areas
Use of the steam room / sauna (first session free, thereafter €70 per session)
Pool Towels, Hair dryers  and use of laundry facilities
Free Wi-fi
Tourist tax
What's Not Included?
Airfare from/to your home city
Travel insurance
Ground transportation outside the scheduled pick-up on arrival day and drop-off on departure day *
One lunch, one dinner, and any other additional meals
Optional activities other than those specified as included in the retreat price
Other travel-related expenses
* Transfers outside the scheduled pick-up or drop-off can be arranged for an additional fee
Retreat Prices, per person
Room Type 1 – Shared room + shared hallway bathroom. 2 rooms / 4 places. 2 twin beds, 2 people per room, sharing one bathroom. $2500 (USD) per person
Room Type 2 – Shared Room + Private bathroom. 5 rooms / 10 places. 2 single beds, 2 people per room.  $2600 (USD) per person 
Room Type 3 – Deluxe Double Room + Private Bathroom. 2 rooms / 4 places. 1 double bed, 2 people per room.  $2700 (USD) per person 
Room Type 4 – Deluxe Private Room + Private Bathroom. 2 rooms / 2 places.  1 single bed, 1 person per room.  $3,400 (USD) per person 
Terms and Conditions
A $500 (USD) DEPOSIT reserves your spot, please indicate what type of room you would like. Once we receive your reservation, we will email you a confirmation along with more trip details. Your remaining balance is due by May 1, 2018.
For details, contact Angie Hall at angie@angiehallyoga.com
Cancellation Policy
Please note that the $500 deposit is non-refundable and secures your spot for the retreat. If you have paid in full by January 15th and need to cancel, we will offer you a full refund (not including the deposit).
If you need to cancel between 1/15/18 and 4/1/18 we will issue a refund (not including the deposit) and you will be charged a 10% cancellation fee.
As we need to pay the retreat center in advance, no refunds will be given for cancellations later than April 1, 2018.
Transport Options – Getting to and From Il Borghino
The nearest airport to Lucca is Pisa international Airport "Galileo Galileo" – 18 Miles from Lucca
Florence International Airport "Amerigo Vespucci" is 50 Miles from Lucca
If you are flying into Rome, Fiumicino Airport is 162 miles from Lucca.
Regular trains and buses run from both Pisa and Florence airports to Lucca and are very reasonably priced. Trains also run regularly from Rome airport but the trip is much longer and takes around 4.5 hours.
Check-in and Check-out
Check-in at Il Borghino is strictly 4pm on the day of arrival.
When booking your flights, we recommend you plan your arrival time in Lucca for around 15:30pm, to coincide with the group transfer to Il Borghino at 3:45pm.  There will be one scheduled pick-up only. Please email your arrival details to hello@yogainitaly.com as soon as they are available.  If you are unable to make the pick-up,  we can arrange for a taxi to bring you to Il Borghino.
Check-out at Il Borghino is strictly 09:30am on the last day. Please plan your departure flights accordingly.