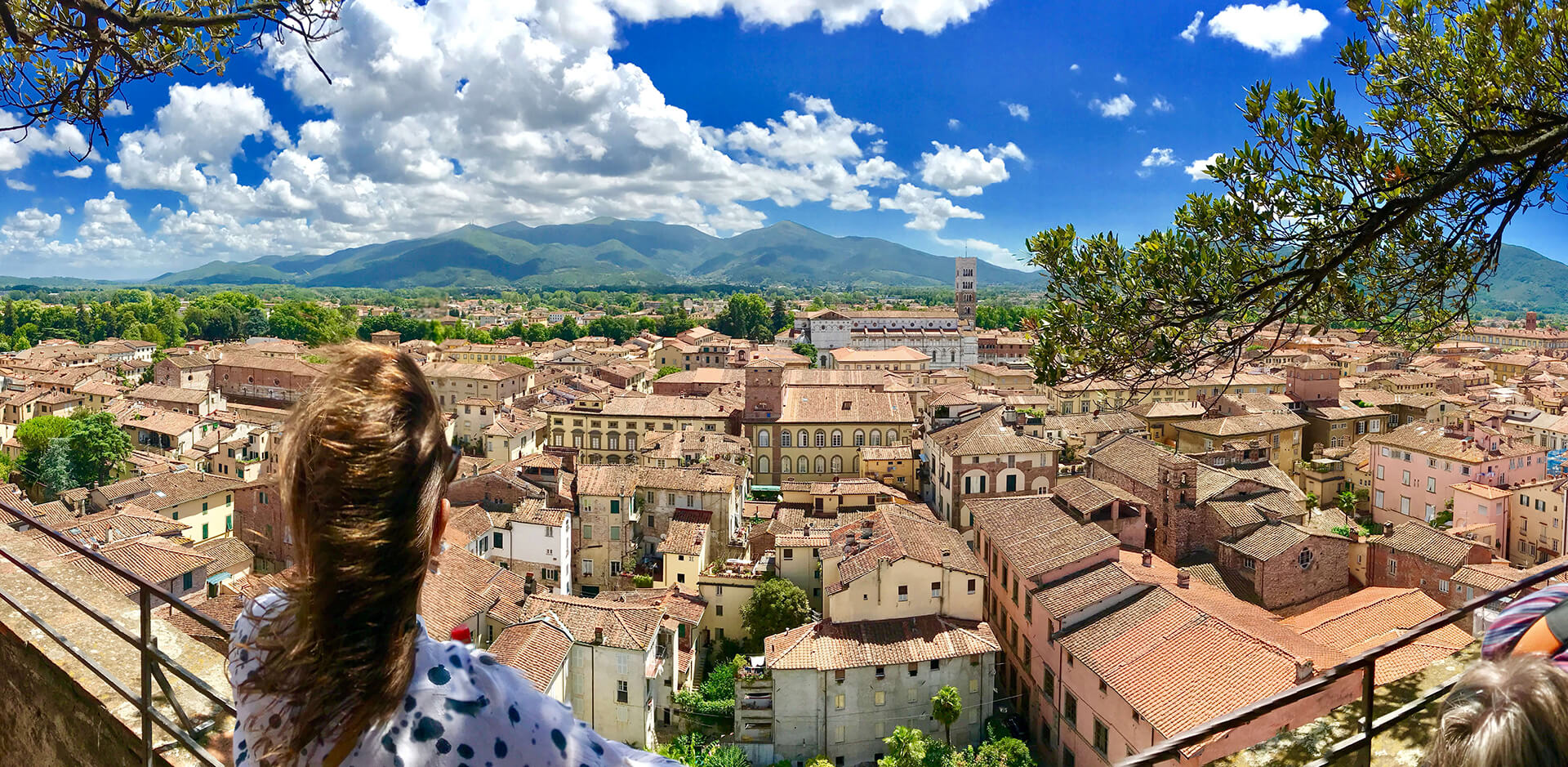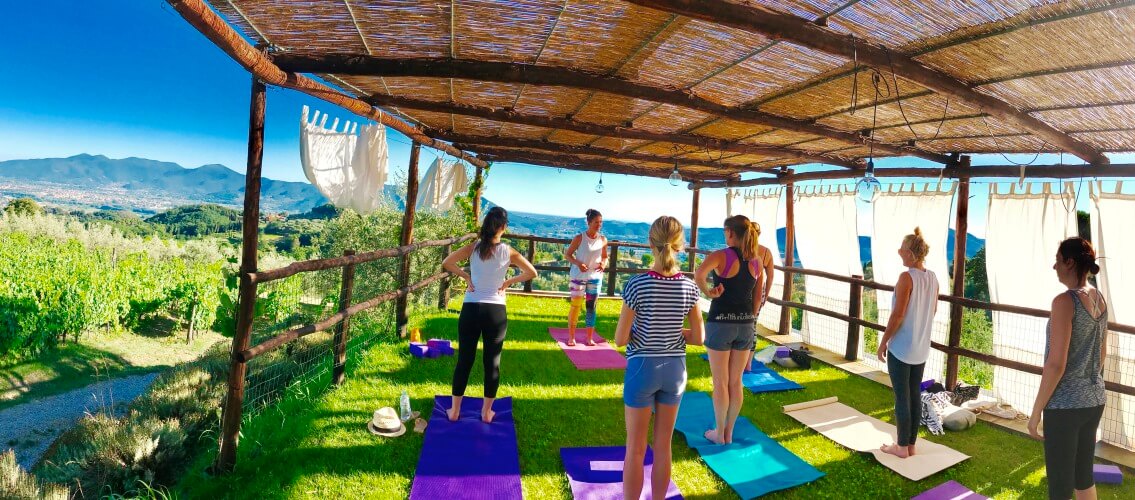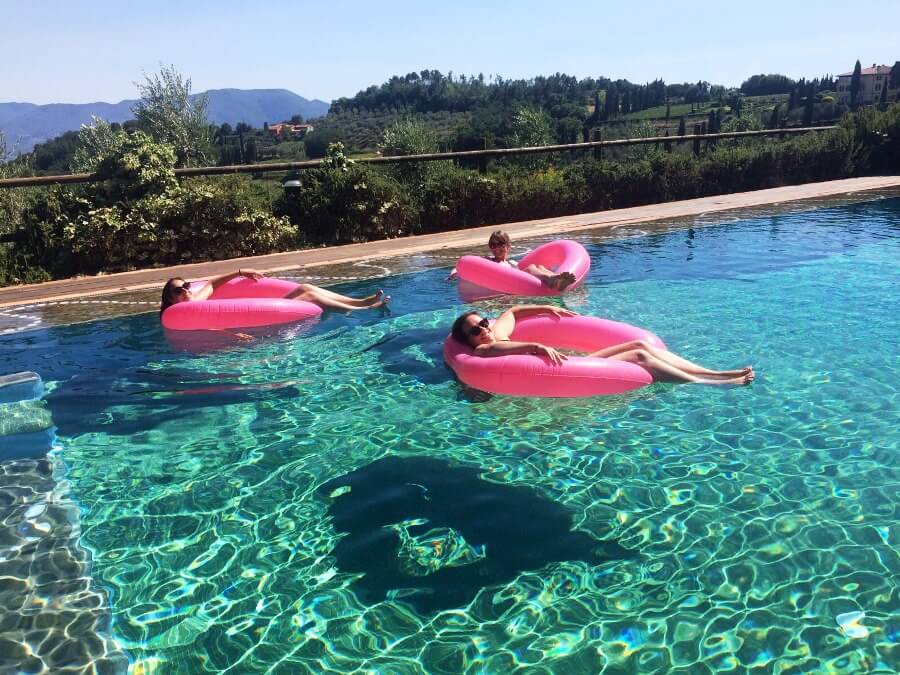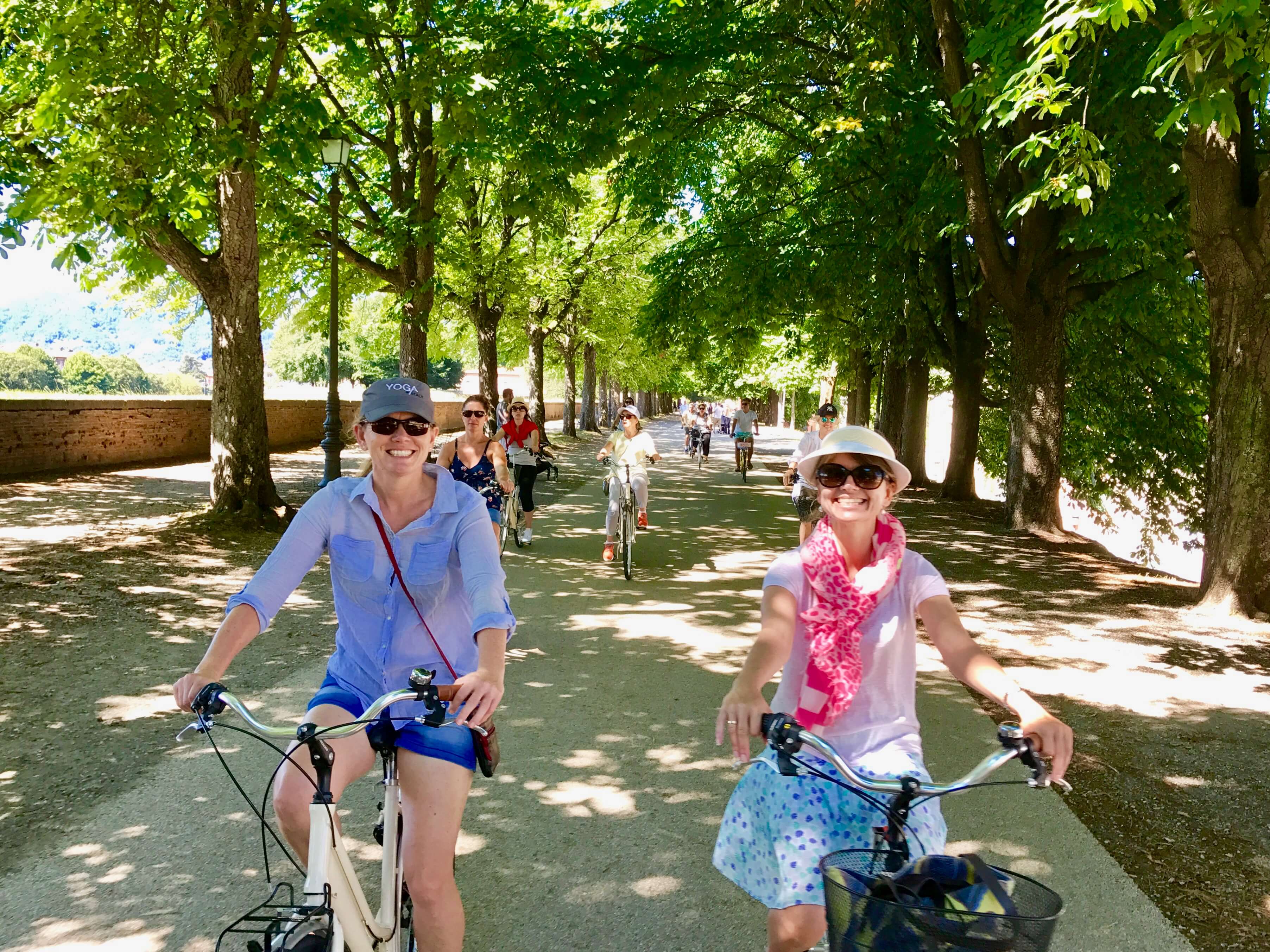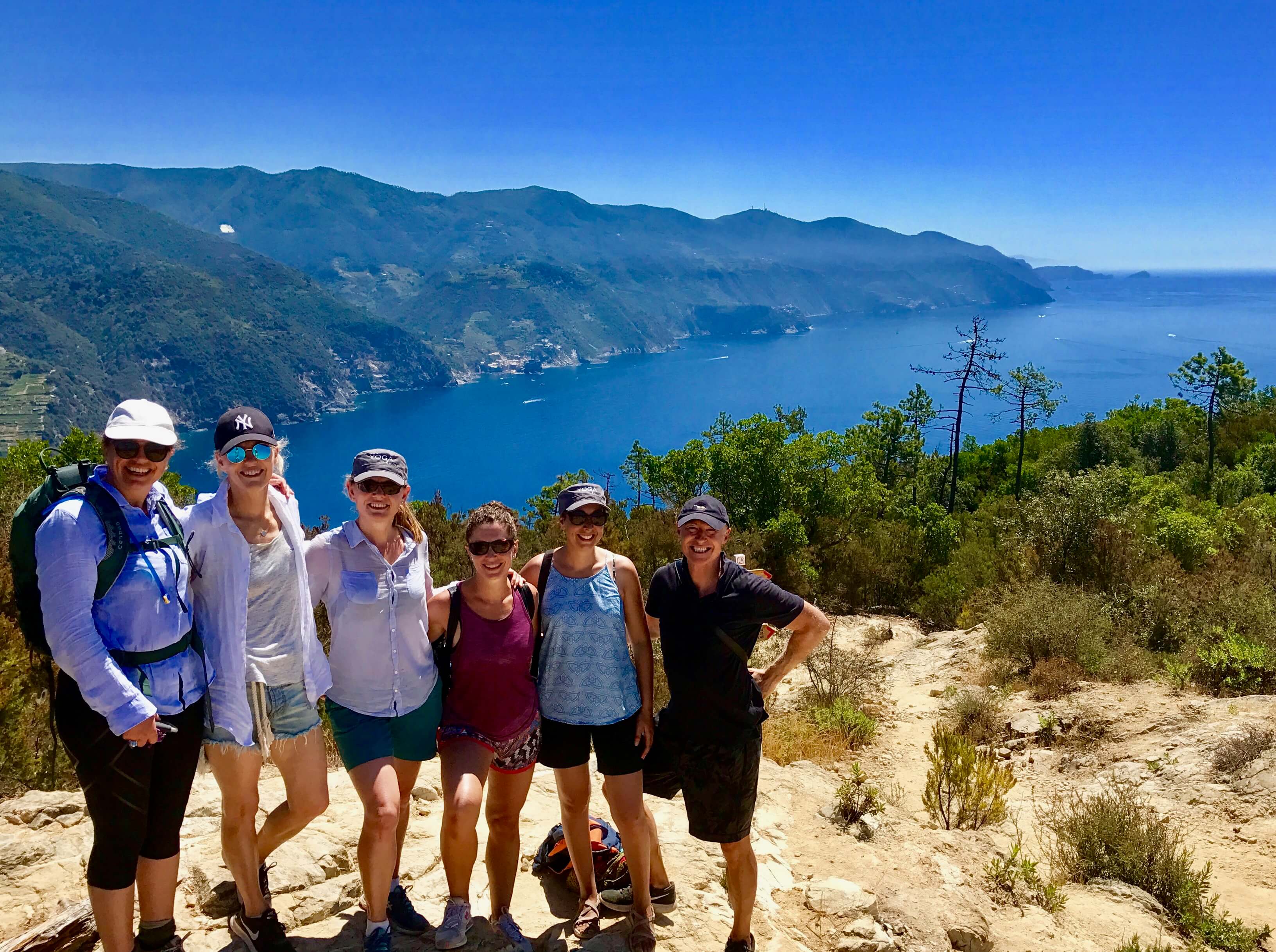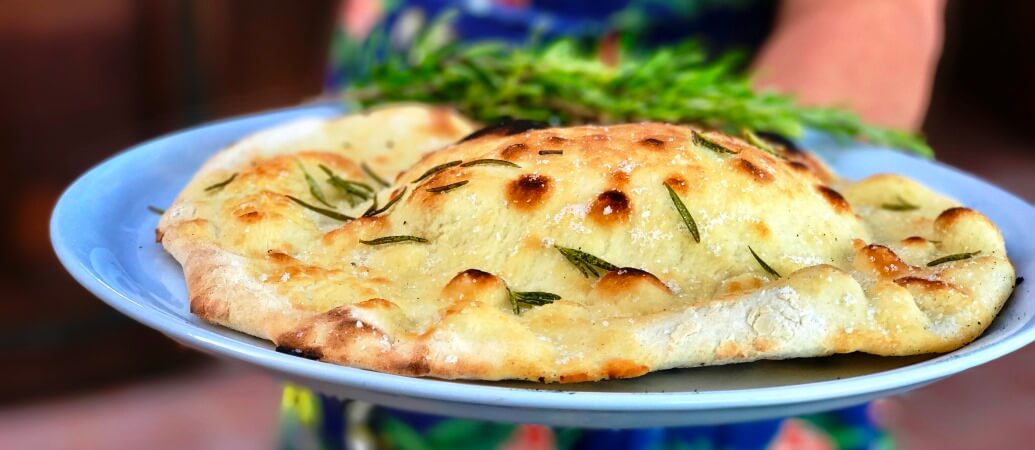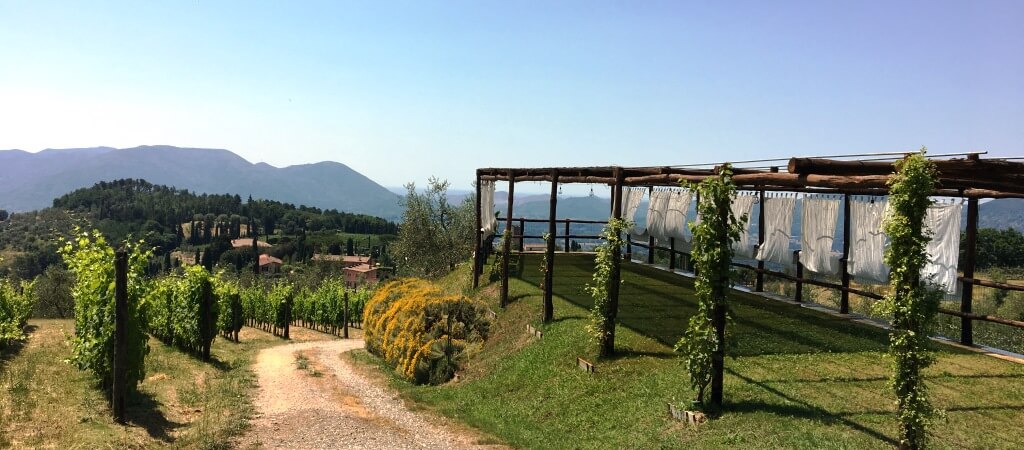 SEPT 22 – 29, 2018 | GENTLE YOGA IN TUSCANY :: A YOGA + TOURING ADVENTURE with  RUDY + JOYCE PEIRCE 
This trip offers the opportunity to immerse yourself in a Gentle Yoga Retreat while exploring the sights and flavors of Tuscany. 
An unforgettable Tuscan holiday awaits you! You are gifting yourself with a truly fabulous vacation week. This will be our 12th year hosting Gentle Yoga in Tuscany and it just gets better every year. It is a joy to share the experience of this fabled region, a crossroads of medieval history, the cradle of the Renaissance, land of soulful, artful living.
Enjoy a magical week of self-care and loving life with twice daily yoga, stunning scenery, pure fun, gracious hospitality, belly laughing, great food, and well-organized adventures.
Location
Home base for our week in Tuscany is a splendid grouping of four homes collectively known as Il Borghino, nestled in  a luxurious setting with a stunning view. These homes have been meticulously restored to make them welcoming and homey as well as being both comfortable and modern. You will enjoy a remarkable combination of elegant and traditional Tuscan living.
The villa itself sits high on a hillside overlooking a panorama of olive groves, fruit trees and vineyards. Nestled amongst the Tuscan hills, close to the enchanting city of Lucca, time moves slower here; an afternoon can easily be lost drifting through the olive groves or resting by the salt-water pool.
The villa's convenient location also allows for easy travel to some of Italy's most picturesque historic towns including Lucca, and the renowned seaside villages of the Cinque Terre.
Typical Daily Program
We will greet each day with smooth, soothing Gentle Yoga with Rudy followed by a delicious, healthy breakfast. Your week of self-care also includes two MELT classes, introducing the foot and hand treatments of this revolutionary method that simulates hands-on therapeutic techniques.
Afternoons at the Villa will generally offer spacious free-time, then afternoon Gentle Yoga with Rudy to unwind any stress you may have brought with you.
Every day you will partake in fabulously fresh, vegetarian Tuscan cuisine!
Planned Excursions
We have two day-trips and one evening outing planned. However, everything is optional giving you the flexibility to adapt the week to your own individual needs. We have a bike and walking tour of charming nearby Lucca early in the week, guided by an equally charming guide who has a deep family history in Lucca.
Mid-week we have an all-day excursion to sensational Cinque Terre (the Five Lands), beautiful, vividly colored villages located on cliffs overlooking the Ligurian Sea. Another enchanting option is attending a performance of Puccini opera in Lucca at the church where he was an organist prior to his successful composing career.  Additionally for those who love to cook, you have the opportunity to participant in an Italian cooking class which will result in that day's gourmet lunch.
Inspirational Reading
Possible inspirational reading includes: Eat, Pray, Love by Elizabeth Gilbert, Four Seasons in Rome by Anthony Doerr, Under the Tuscan Sun: At Home in Italy or In Tuscany, both by Frances Mayes.
Books that are helpful for orientating to Italian culture: Italians Dance and I am a Wallflower: Adventures in Italian Expression  by Linda Falcone or The New Italians by Charles Richards, an in depth look into current Italian life.
About Rudy Peirce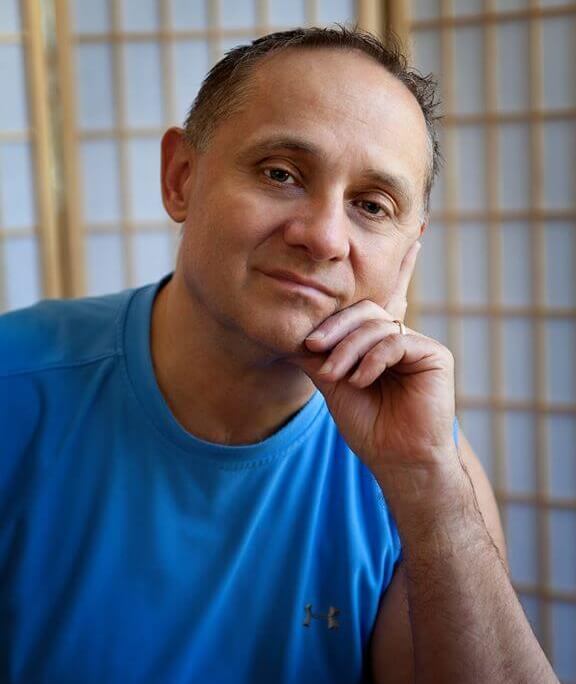 Rudy Peirce, MA, E-RYT 500, has studied and practiced yoga and meditation for more than 30 years. A Kripalu Yoga teacher since 1983, he guides accessible and gentle yoga, using a self-empowering, mindful approach that facilitates deep release for beginners as well as experienced practitioners. Rudy has been on the Kripalu faculty for more than two decades and currently serves as an instructor for the Kripalu School of Yoga and the LifeForce Yoga Healing Institute. His popular four-CD set, The Gentle Series, supports students in maintaining a regular home practice. You can find more information about Rudy on his website www.rudypeirce.com
About Joyce Peirce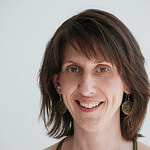 Joyce Peirce is a certified Kripalu Yoga Teacher and Shake Your Soul® movement facilitator. Together with her husband, Rudy Peirce they run a Gentle Yoga business. They share a commitment to leading yoga and movement experiences that work for every person that wants to learn.  Joyce is aso an enthusiastic MELT method Instructor who is eager to help people feel better and increase their enjoyment of life through ease and comfort in daily living and movement activities.
Retreat Prices, per person
Room Type 1 – $2289 USD per person.  Twin share room (double occupancy) with shared hallway bathroom (i.e 4 people sharing one bathroom).
Room Type 2 – $2489 USD per person. Twin share room (double occupancy) with private bathroom (i.e 2 people sharing one bathroom). Add $500 for single occupancy with private bath.
DISCOUNT: $200 per person for the month of JULY only.
Room Type 3 – $2889 USD per person. Single room (single occupancy) with private bathroom
Terms and Conditions
Prices are per person.  A non-refundable deposit of $800 USD is requested at time of booking and will secure your spot in the retreat on a first come basis. Balance due on or before July 1, 2018. Once we receive your reservation, we will email you a confirmation along with more trip details.
For more information, click on the button "Reserve Your Place" or  contact Rudy at rudy@gentleyogi.com
What's Not Included?
Airfare from/to your home city
Travel insurance
Ground transportation outside the scheduled pick-up on arrival day and drop-off on departure day *
One lunch, one dinner, and any other additional meals in
transit or outside of Il Borghino
Optional other than those specified as included in the retreat price
Optional massages and spa treatments
Gratuities and other personal travel-related expenses
* Transfers outside the scheduled pick-up or drop-off can be arranged for an additional fee
What's Included?
Yoga: Morning and afternoon gentle yoga, (everyday morning yoga on all-day outing to Cinque Terre). All quality yoga mats, blocks, blankets, belts, and bolsters, plus additional yoga mats for use outdoors are provided
Two MELT classes:  An introduction to the MELT hand and foot treatments, a
fascinating self-treatment that reduces chronic stiffness and pain, decreases inflammation, and more. A perfect (if not essential) companion to yoga practice. See www.meltmethod.com for more information.
Accommodations: Double room with shared hallway bath or double room with private bath. Linens and towels are provided with a towel change mid-week. Towels are also provided for swimming pool use. Twin beds can be moved together to form a king-size bed. All linens and towels are included.
Meals:Three delicious vegetarian meals per day except for one dinner (on the Unlimited fruit, water, and herbal teas throughout the day and wine from the estate at dinner.  Sunday evening we go into Lucca for the optional activity of a Puccini performance and  dinner out and on Wednesday, lunch out will be in the Cinque Terre.  For these meals, guests are free to make their own plan or join the group at our favorite restaurants, Cantine Bernardini in Lucca, which has unbelievable bread and Ristorante Belforte in Vernazza which has amazing seafood and a fantastic view.
Fresh Juice – A fresh vegetable/fruit juice is provided at breakfast (a different delicious combination each day).
Internet Access and Mobile Phone Reception:  WiFi Internet access is available at Il Borghino. However, as we are in the countryside, mobile phone service can be intermittent.
Laundry Facilities:  Washing machines and drying racks are available on-site so you can freshen your wardrobe if needed.
Excursions and Add-Ons: Excursions (depending upon weather) are planned to Lucca and Cinque Terre. The transport and tour fee for Lucca is included. The transport fee for Cinque Terre is included. It is suggested that guests budget about €250 per person for other transport needs and/or meals out during optional activities, the cooking class (€30), massages (€60), other optional activities and tips
Swimming pool: A gorgeous saltwater pool is a centerpiece at Il Borghino and is available to you morning, noon, and night, but can be rather cool in late September.
Turkish Sauna/Steam Room: One complimentary session is available for the group. Thereafter the cost is €70 per 3 hour session.  Timing is decided by the group.
Lucca pick-up/drop-off: Transfers to and from the train station in Lucca to Il Borghino at the start and finish of the retreat are included (i.e., one scheduled pick-up and one scheduled drop-off).
Transport Options – Getting to and From Il Borghino
The nearest airport to Lucca is Pisa international Airport "Galileo Galileo" – 18 Miles from Lucca
Florence International Airport "Amerigo Vespucci" is 50 Miles from Lucca
If you are flying into Rome, Fiumicino Airport is 162 miles from Lucca.
Regular trains and buses run from both Pisa and Florence airports to Lucca and are very reasonably priced. Trains also run regularly from Rome airport but the trip is much longer and takes around 4.5 hours.
Check-in and Check-out
Check-in at Il Borghino is strictly 4pm on the day of arrival.
When booking your flights, we recommend you plan your arrival time in Lucca for around 15:30pm, to coincide with the group transfer to Il Borghino at 3:45pm.  There will be one scheduled pick-up only. Please email your arrival details to hello@yogainitaly.com as soon as they are available.  If you are unable to make the pick-up,  we can arrange for a taxi to bring you to Il Borghino.
Check-out at Il Borghino is strictly 09:30am on the last day. Please plan your departure flights accordingly.