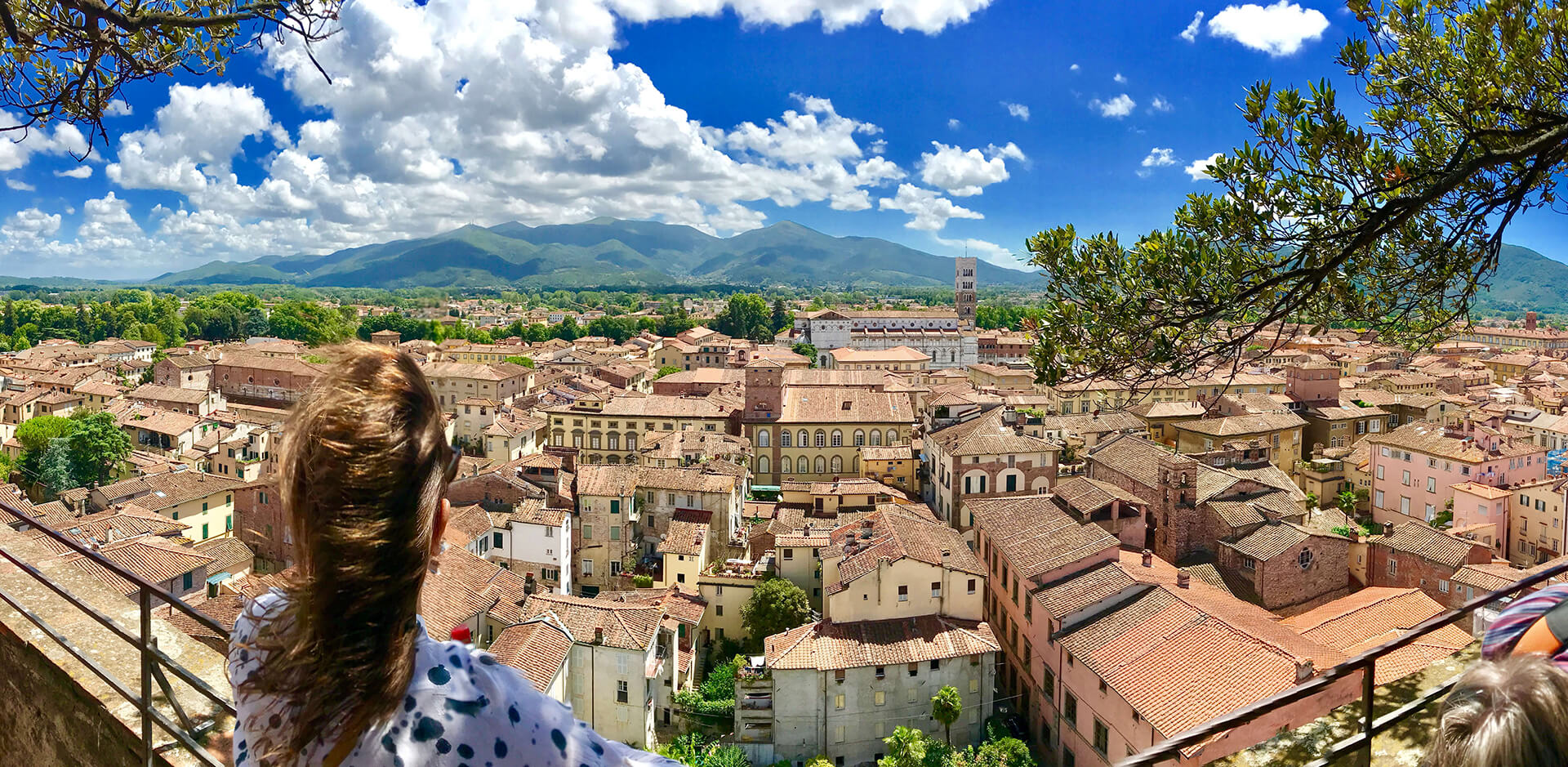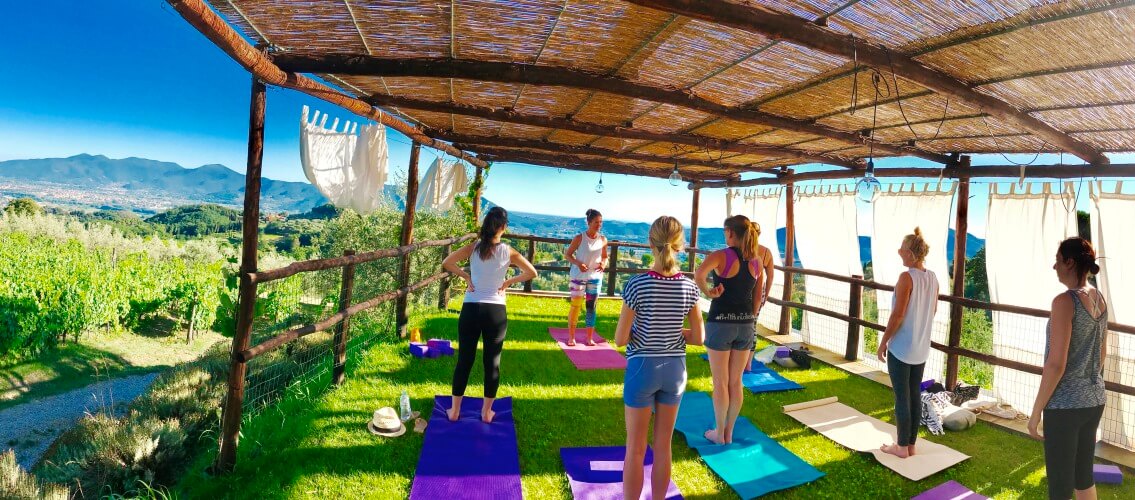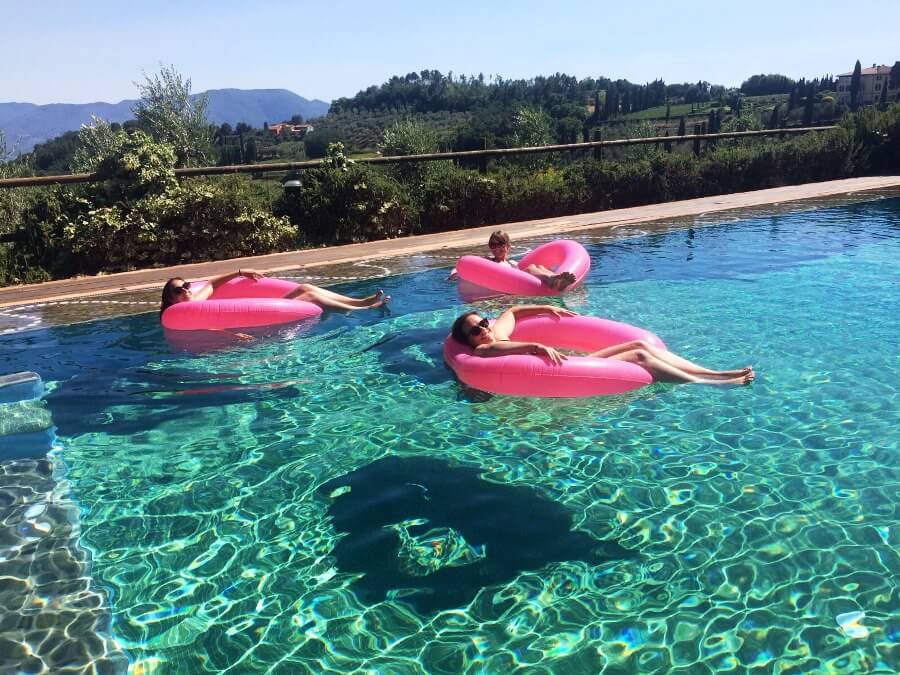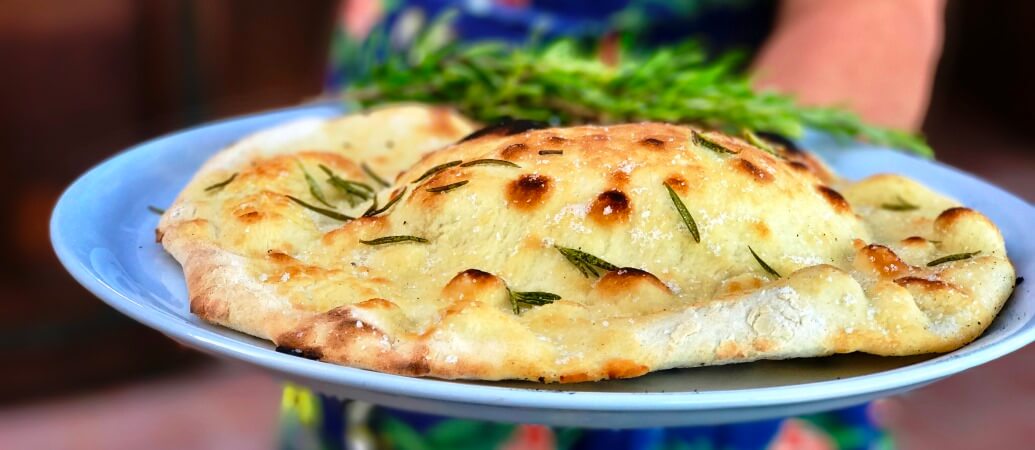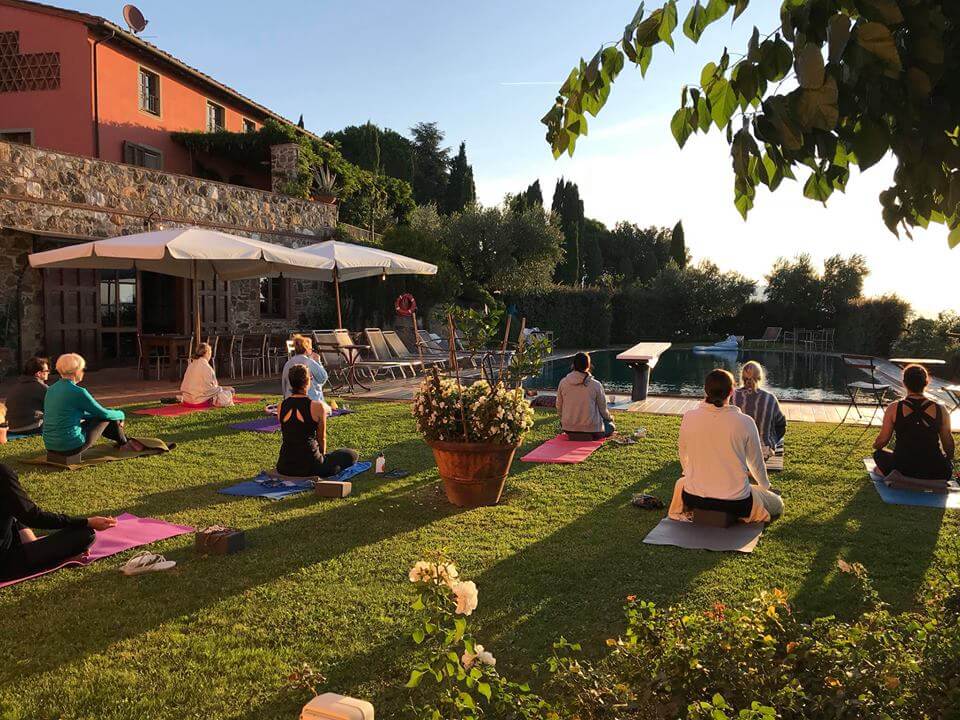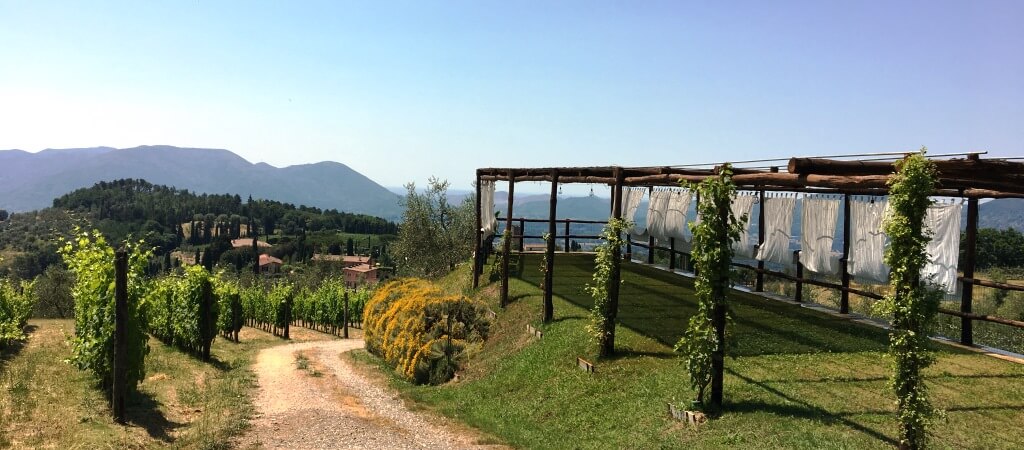 What people say about us.
It was absolutely breathtaking. The service and staff were like family and the choice of activities were great. I'll definitely be returning!
Marina
USA, October 2016
I had the most fantastic week. The views and the location are amazing and the food from Maria Angela was to die for. The pool is lovely and big enough to have a swim as well. Everyone from "Yoga in Italy" was very helpful and made sure we had everything we needed to enjoy the stay. In a nutshell – loved it
Katrin
Germany, August 2016
Thank you for the absolutely stunning week of all things La Dolce Vita! Next August can't come soon enough!
Micheline
August, 2015
A much needed vacation with a wonderful balance of R&R, yoga practice and delicious meals. Siobhan, Kerri and Karen were dedicated to making our stay at Il Borghino a relaxing and fun one. I was pleasantly surprised by the professionalism of the drivers, chefs and tour guides recommended by Yoga In Italy. For me, the highlights were the amazing pool overlooking Lucca, great yoga facility/equipment, yummy pesto gnocchi and fresh-made brick oven pizza!! I fell in love with Lucca on this trip and hope to visit again!
Lucy
China, July 2016
I must say that my stay at Il Borghino exceeded my expectations!! First off the photos do not completely capture the full beauty of the property. The views are breathtaking, the pool is incredible, and the rooms were great! The rooms were clean and property itself was so well maintained. But the icing on the cake was the staff..so accommodating! They were so so helpful in helping us get to and giving advice on any where we wanted to go. Also, I am lactose intolerant and have a nut allergy. At every meal they made sure I was well taken care of and provided me food that was lactose free and had no nuts (and delicious at that). Thank you! I thoroughly enjoyed my stay at Il Borghino, highly recommend it, and would return in a heartbeat! Thanks for such a wonder experience and making this trip so memorable!
Darryl
USA, July 2016
I had the most wonderful time at Il Borghino in Italy! My experience exceeded my expectations in every way! The estate is absolutely stunning…our yoga experience was enhanced by the beautiful surroundings and gorgeous view of Lucca. The Il Borghino team was superb as well! They made us feel welcome at all times and clearly wanted to make our experience a special one (and the food was fabulous!!!) The Yoga Retreat at Il Borghino was absolute bliss and I came back feeling refreshed…and wanting to go again as soon as possible! I highly recommend this retreat to anyone who is looking for a relaxing, beautiful and fulfilling yoga experience. I have no doubt you will fall in love with Il Borghino and Lucca, as I did!
Bridget
USA, July 2016
The most amazing experience. Words can't even describe the beauty of the villa. The staff was wonderful and added much to the glorious experience. A piece of my heart is in those hills. I must return!!!
Melissa
USA, July, 2015
Which was more compelling and enjoyable–the time spent on-site at Il Borghino for our week-long Yoga in Italy outing, or the off-site adventures that the staff suggested and then executed for us? Fortunately, we didn't have to choose–we did plenty of both and thoroughly enjoyed it all. The facility is top-notch: well set up for yoga (in a unique space, lit by the filtered light of the swimming pool coming through two huge "picture windows"), for dining (generally outdoors, looking at the hillsides and the town of Lucca down below 10 KM away), for group interaction and personal space for reflection. The style is casual elegance. The staff was friendly and helpful–always accommodating our seemingly constant changes in plans and making it work as though there was nothing to it. This was a wonderful combination of relaxation, reflection, mild activity and aggressive activity, in whatever proportions individuals were seeking.
Al & Anne
USA, August 2015
My week with Michelle Kronenberg Yoga at Yoga in Italy's Il Borghino was a magical experience. The property is the perfect Tuscan retreat in a spectacular setting. Before I went, I was a little worried that I would be hungry eating vegetarian fare. I never imagined I would enjoy the most delicious meals and desserts ever freshly prepared by a superb local cook. The staff at Il Borghino are warm and accommodating. The massage services were fantastic. Michelle Kronenberg is my favourite teacher so the prospect of practicing yoga with her 3-4 hours a day was my original reason to join this retreat. If I could give this experience six stars, I would!
June
USA, April 2015
What an amazing place to reconnect with my higher self! The food was amazing, the views breathtaking and to top it off, an incredible staff. Everyone made me feel like family and I think of this villa as my second home. The services were transformative and healing. I wish I could bring everything back home with me, but if I did, there wouldn't be a second home to visit!  With great love and adoration,
Renee
USA, June 2015
Much gratitude and thanks for the nourishment and nurturing provided by you and your wonderful helpers. I appreciated the calm and beauty of Il Borghino which is so restorative for the guests. Also appreciated is your smile and extreme patience and flexibility in dealing with this group! I hope to be able to return in the not too distant future.
Meg
USA, August 2015
In the US we say AWESOME!. Thank you all – for great care – thoughtfulness – smiles – GLUTEN FREE DELICIOUSNESS and the best pizza I ate in Italy!
Thank you for beauty, logistics, kindness, patience and loving us with your space. Wonderful food, tours, massage, treatments. Love you all.
Erika
USA, August 2015
"La Dolce Yoga" ~ sweetness abounds here at Il Borghino. Every sense was awakened this week.  We are incredibly grateful for the fantastic care we received in every manner, the beautiful surroundings, delicious food and lovely people. It is difficult to leave and I suspect  many of us will be back.  With love, laughter and sweetness,
Annie + Amir
USA, August 2015
This is such a treat for both me and my daughter.  Its our very first yoga retreat and surely not our last one. Thank you for everything you've done for us – beyond our expectations. Love you all!
Helen
USA, July 2015
Thank you to everyone on staff here who has put in the time and dedication and attention to make sure we have everything we need. It has been a fantastic week.  With lots of love and gratitude.
Regina
USA, August 2015
To the Borghino family! Thank you for giving us such a magical week of great food, yoga, relaxation and new friends. Your hospitality is so appreciated for the feeling of peace and love we leave behind for you all.  Thank you and Ciao!
Diane
USA, April 2015
Thank you so much for all the love and thoughtfulness you put into this retreat. My body has been refreshed, my head cleaned and my heart opened.
Mark
USA, August 2015
Thank you all so much for your oh so gorgeous hospitality and totally perfect food. We very much hope to be back. Thanks to all who made us so welcome.
Ross + Sandra
Australia, July 2015
One of the best retreats I have been on! Thank you for everything, I appreciate ALL that you did for me.
Allison
USA, July 2015