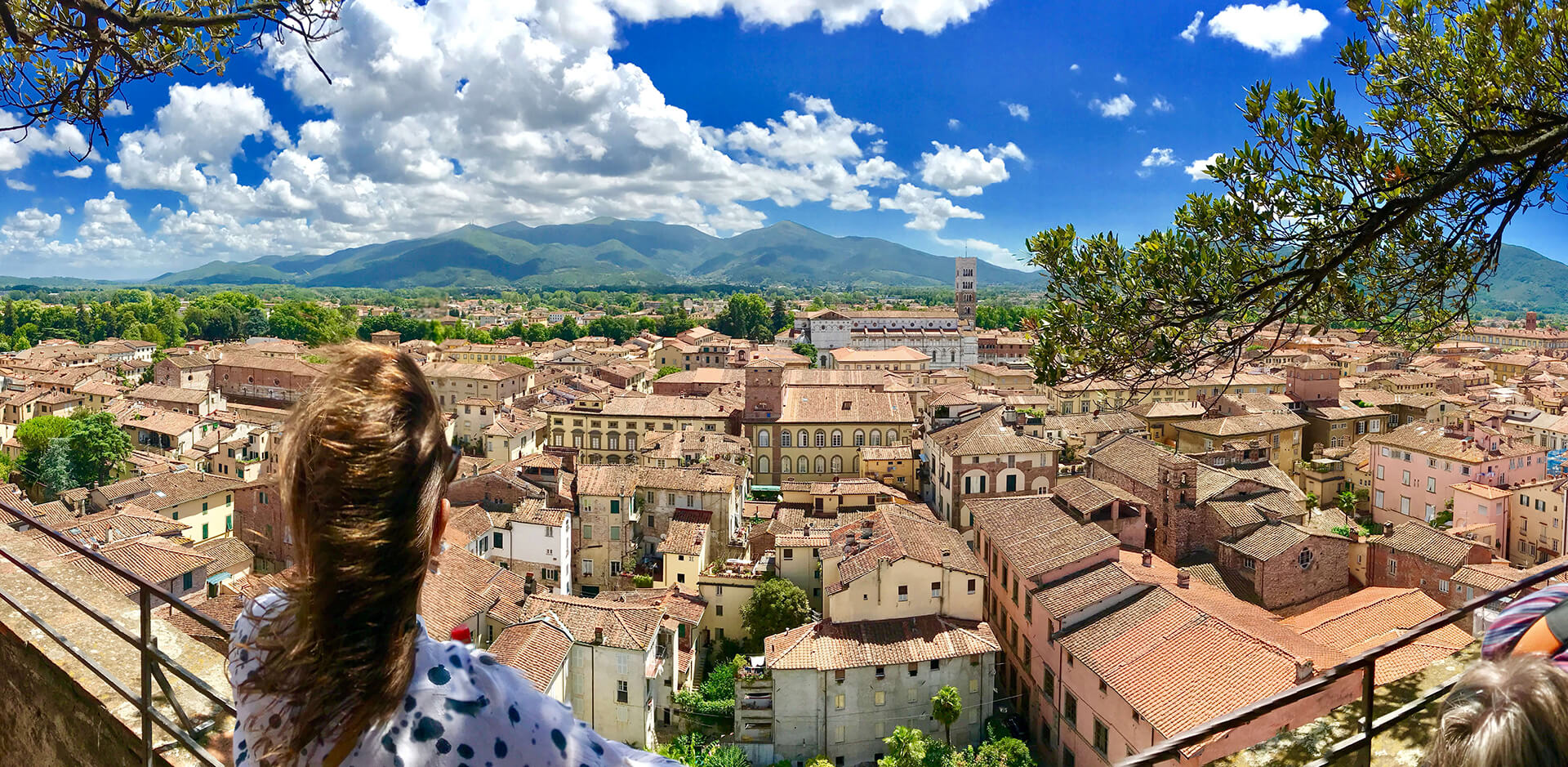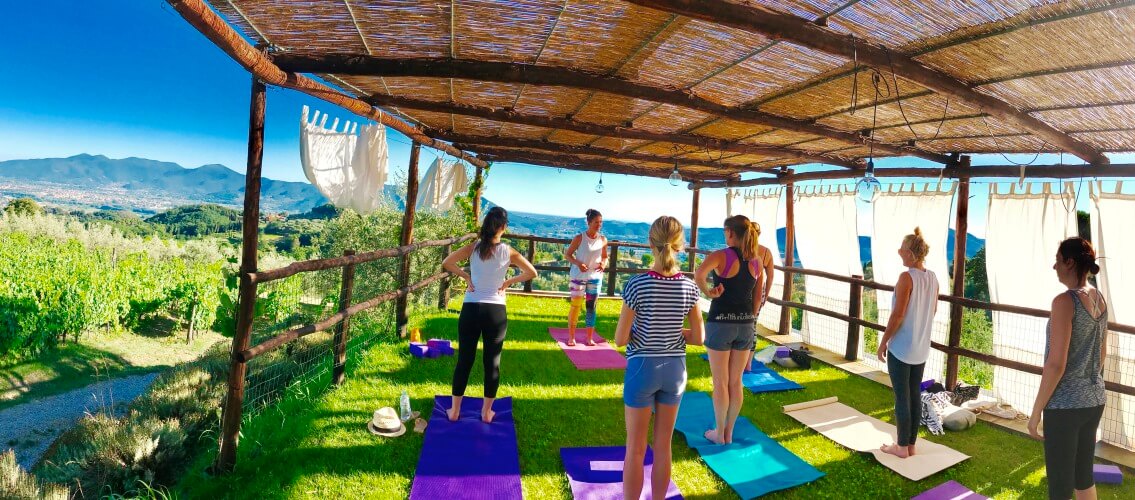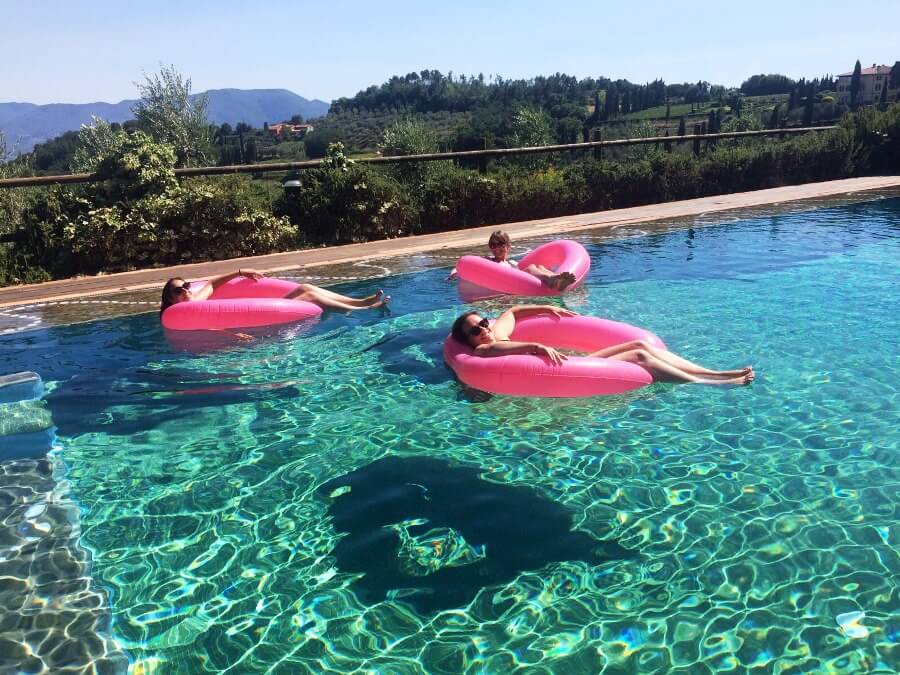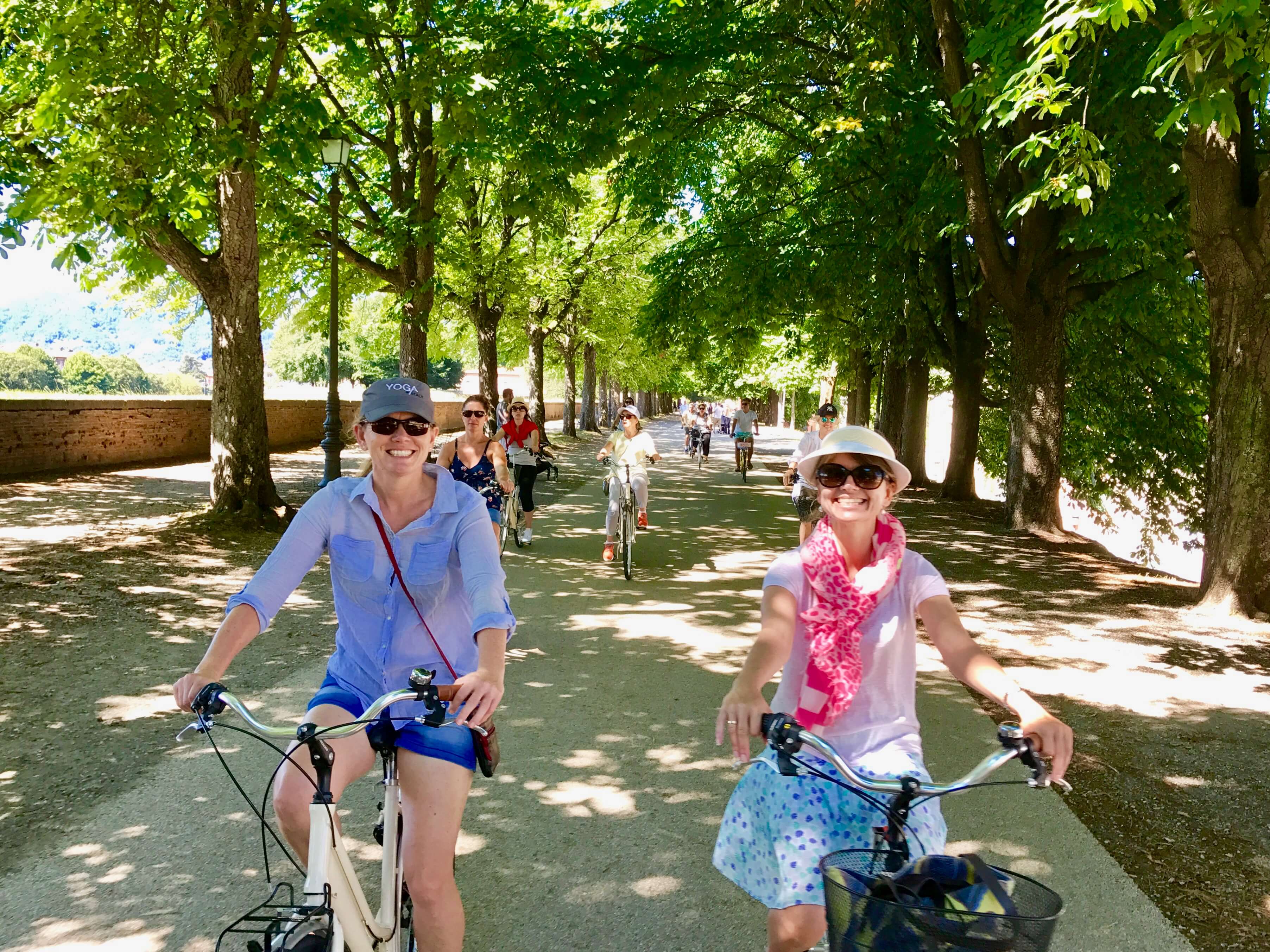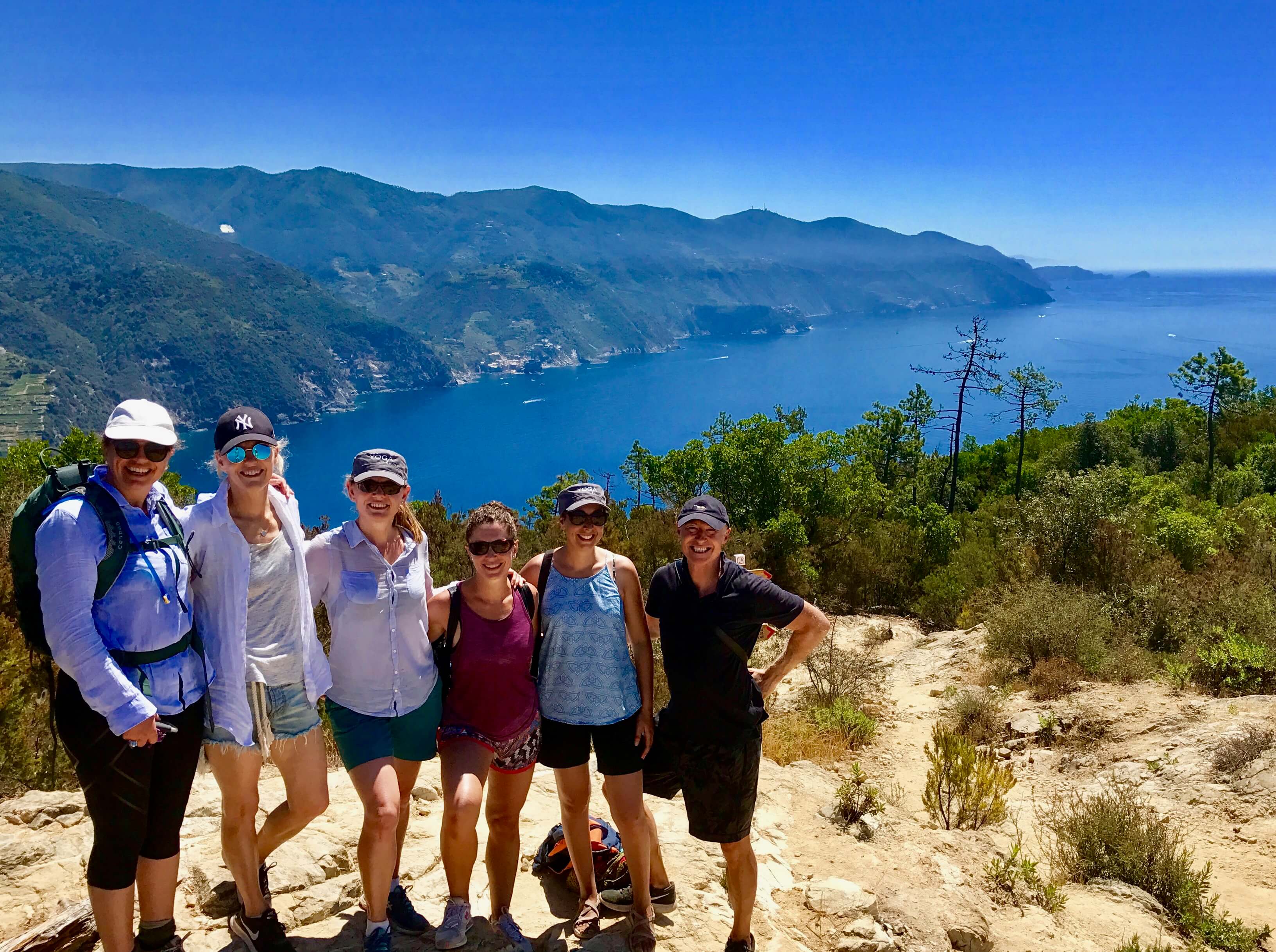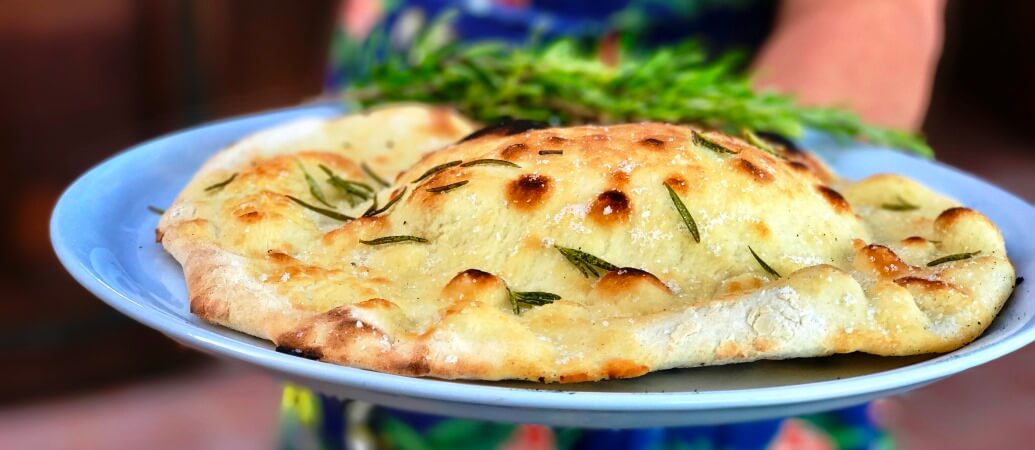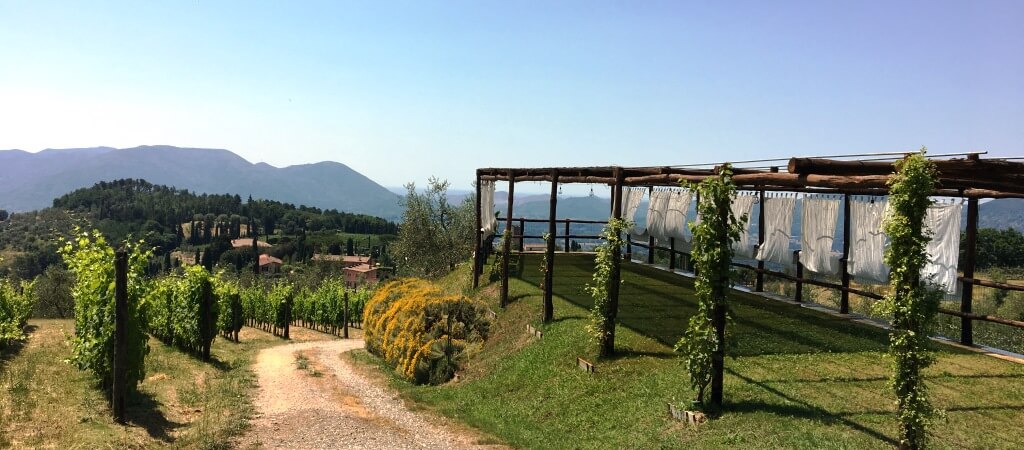 SEPT 17 – 24, 2016: Moments in Tuscany:: A Yoga + Mindfulness Retreat with Lisa Hampton
Tuscany offers an abundance of sensory delights and is the perfect setting for a delicious week of mindful practices. 
Being present or 'in the moment' enriches our experiences allowing life to be lived more fully. Whether practicing yoga overlooking the Tuscan landscape, walking or bicycling a scenic path, exploring the Medieval city of Lucca, or enjoying the local cuisine, each moment will be truly memorable. Mindful energy blended with joy and gratitude is transformative and practiced in Michelangelo's backyard is simply divine!
Move mindfully at your own pace and enjoy a relaxed and heart-centered week that's loosely structured so you can do as little or as much as you'd like. Yoga classes, meals and included activities are planned but always optional; The rest of the time is yours to rest at the villa, go on excursions or enjoy the in-house spa treatments.
Yoga
Practice will be offered each morning before breakfast. In the evening, a restorative yoga class will help you relax and sleep more deeply. Appropriate for beginning and intermediate level students, classes emphasize the wisdom in honoring your strengths and limitations and to be grateful for all that your body can do. All classes are taught by Lisa Hampton.
Cuisine
Delicious vegetarian meals prepared by a wonderful local cook using what's in season and the region's specialties (organic whenever possible) are provided with plenty of healthy choices. Fresh fruit and vegetable juices are made in house and herbal teas made using fresh herbs from the garden are included. Organic wine, olive oil and honey is produced in the surrounding areas and is served throughout the week.
Lucca
The endearing Medieval city of Lucca hidden behind dramatic Renaissance walls invites exploration. A fun guided tour takes us to this historic city for a scenic bicycle ride around its ancient walls and a mindful walk inside to discover its charming attractions. This tour also includes a cappucino break – but of course! Lucca is just 10 km from our villa.
Nature Hike
Get grounded. The healing power of nature is undeniable and on this scenic nature hike, we will connect physically with the earth and natural world to energize the body. This rejuvenating experience is combined with our wine tasting tour and includes a scrumptious picnic lunch back at the villa!
Wine Tasting
Surrounded by olive groves and vineyards at our Tuscan villa, we'll walk along the 3 km scenic 'Strada del Vino' (the wine road) to a local winery where we'll enjoy a tour and tasting. A perfect opportunity to savor the journey and drink in the details!
Is This Retreat For You?
If you are attracted to the idyllic region of Tuscany with its iconic landscapes, delectable cuisine and rich history, and enjoy taking time to slow down and savor life, this retreat may be for you! Whether or not you practice yoga, the retreat is perfect for girlfriends, couples, mothers and daughters or solo travelers seeking to enjoy life, moment by delicious moment!
Lisa Hampton is a fitness pacesetter. In 1994, she was an insightful forerunner in her industry, incorporating the mindful concepts of yoga into traditional fitness programs.  Since then, mind-body fitness popularity has grown only stronger and healthier.  And Lisa now excels in her field as an ACE (American Council on Exercise ) certified personal trainer, yoga instructor and consultant of mind-body health and fitness, exercise physiology and strength training.
Background
Nearing two decades as the entrepreneurial owner of Mindful Fitness, Lisa has cultivated a loyal following of mind-body believers.  Through the years, her clients have practiced Mindful Fitness principles and benefited from safer, more effective and more enriching fitness experiences. Clients frequently enter Mindful Fitness programs as an escape from the discouragement, stress and exhaustion that follow unsuccessful attempts to achieve solely external fitness goals.
Lisa developed Mindful Fitness to be an enjoyable and energizing alternative to traditional fitness methods. Clients practicing mindful techniques describe their experiences as a liberating and uplifting journey toward feeling connected and whole on multiple levels—emotional, mental, physical and spiritual.
Retreats and Inspired Tours
Lisa's love of nature and finding joy in movement inspired her to begin offering mindful retreats at a local organic lavender farm where participants can practice mindful walking, yoga and meditation while reconnecting with our natural world. "We need the tonic of wilderness" wrote Thoreau.
The essence behind Lisa's inspiration is held in awe-filled moments where all of the senses are engaged and we are present. A walk at sunset, nourishing oneself with delicious food, or discovering places of sublime beauty are ways to live in the moment.
You can find more information about Lisa on her website www.mindfulfitness.com
Retreat Pricing
Room Type 1 – $1700 USD  Twin share room (two single beds) with shared bathroom (i.e 4 people sharing one bathroom)
Room Type 2 – $1900 USD Twin share room (two single beds) with private bathroom (i.e 2 people sharing one bathroom)
Room Type 3 – $2100 USD  Single room with private bathroom (i.e 1 person sharing one bathroom) Limited availability
A non-refundable deposit of $500 USD is requested at time of booking and will secure your spot in the retreat.
Balance due June 17, 2016. If registering after June 17, full payment is due at that time.
For more information or if you have any questions please email Lisa on lisa@mindfulfitness.com
No refunds will be issued for the deposit. No refunds for the balance will be issued after June 17, 2016 unless your spot can be filled with someone from the waiting list. If Mindful Fitness cancels the retreat for any reason, you will be refunded in full, including your deposit.
What's Included?
10 yoga and meditation classes (indoor & outdoor)
use of yoga mats, blankets, blocks, belts & bolsters
7 nights accommodations all with fabulous views!
3 vegetarian daily meals (excluding one lunch and one dinner out at your leisure)
al fresco dining on gorgeous outdoor terrace
free day for an all day excursion or relaxing at the villa
fresh detox juice at breakfast, unlimited fruit, water and herbal teas
coffee and tea making facilities in each house
local wine at dinner
celebratory dinner of pizza from wood-fired oven and prosecco on last night
use of the salt water pool, Jacuzzi and Turkish sauna
fun guided tour of Lucca
scenic walk to a beautiful local winery for wine tasting followed by a picnic lunch back at the villa
WIFI in common areas
laundry facilities
transfers to and from Lucca to Il Borghino at start and end of retreat (only one transfer scheduled each way)
What's Not Included?
Airfares
Travel insurance
Airport transfers
Lunch out on free day
Dinner out on one free evening
Optional excursions
Optional Massages and Healing Arts Therapies
other travel related expenses
Optional Excursions + Activities
Authentic Italian in-house cooking class
Puccini opera in Lucca
Pietrasanta Artist Village
Cinque Terre day trip
Visit to a thermal spa
Bike ride along a scenic river to historical villa
Italian language lessons
Transport Options – Getting to and From Il Borghino
The nearest airport to Lucca is Pisa international Airport "Galileo Galileo" – 18 Miles from Lucca
Florence International Airport "Amerigo Vespucci" is 50 Miles from Lucca
If you are flying into Rome, Fiumicino Airport is 162 miles from Lucca.
Regular trains and buses run from both Pisa and Florence airports to Lucca and are very reasonably priced. Trains also run regularly from Rome airport but the trip is much longer and takes around 4.5 hours.
Check-in at Il Borghino is strictly 4pm on the day of arrival.
When booking your flights, we recommend you plan your arrival time in Lucca for around 15:30pm, to coincide with the group transfer to Il Borghino.  There will be one scheduled pick-up only. Please email your arrival details to info@yogainitaly.com as soon as they are available.  If you are unable to make the pick-up,  we can arrange for a taxi to bring you to Il Borghino.
Check-out at Il Borghino is strictly 09:30am on the last day. Please plan your departure flights accordingly.