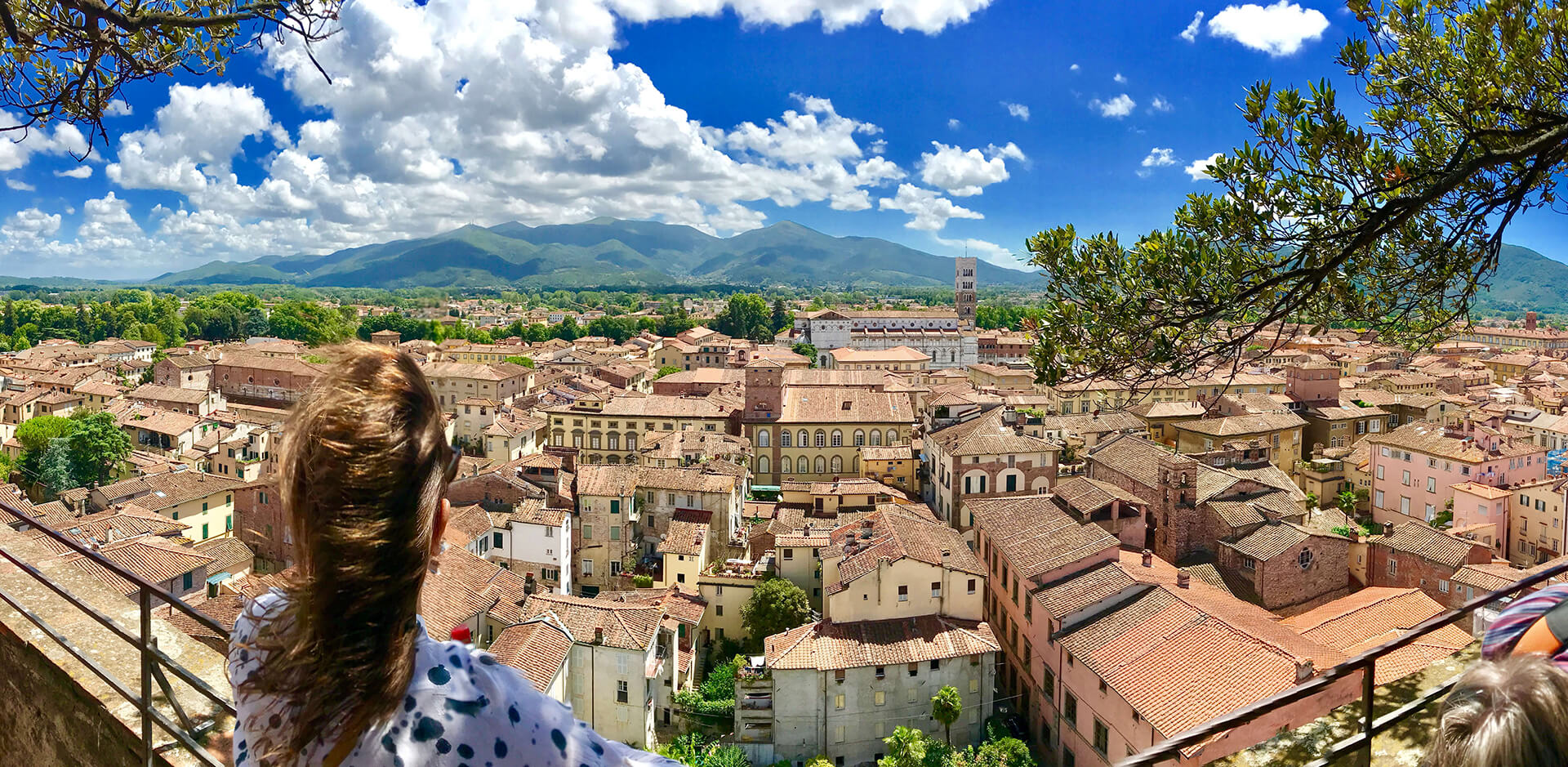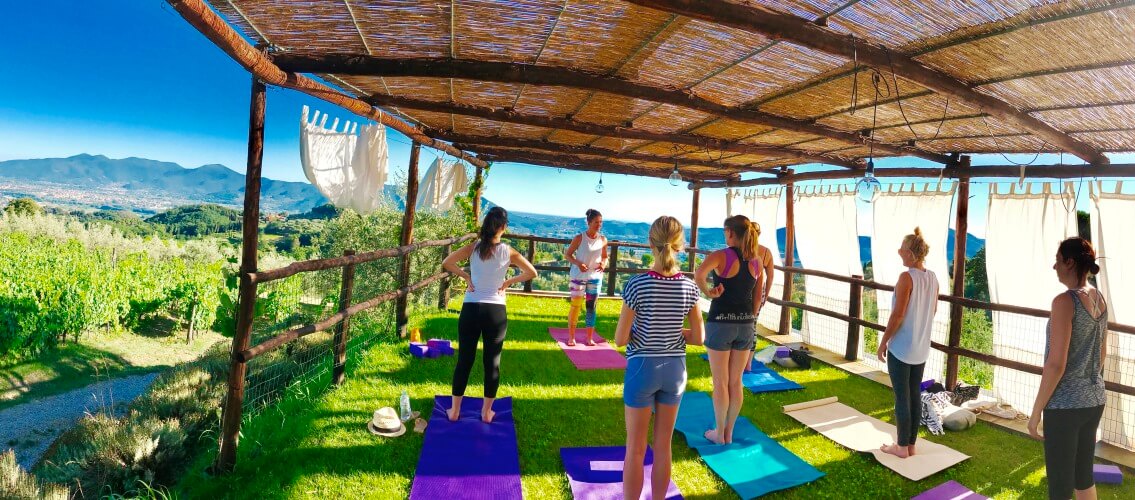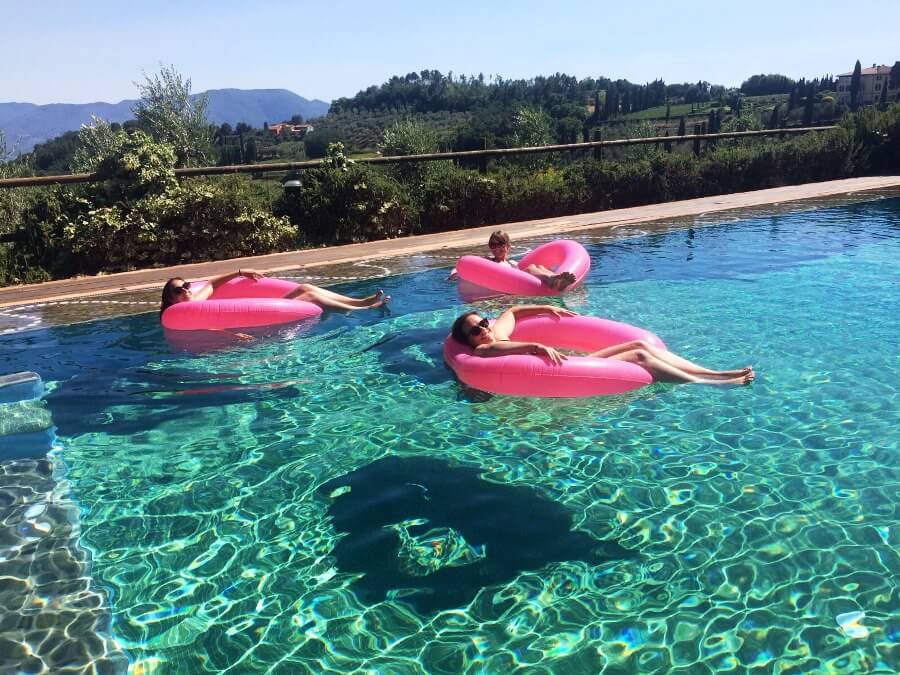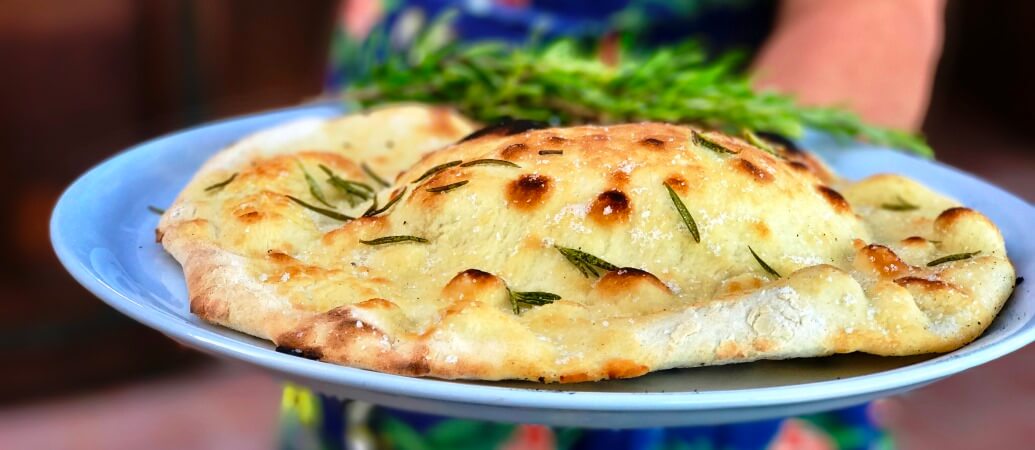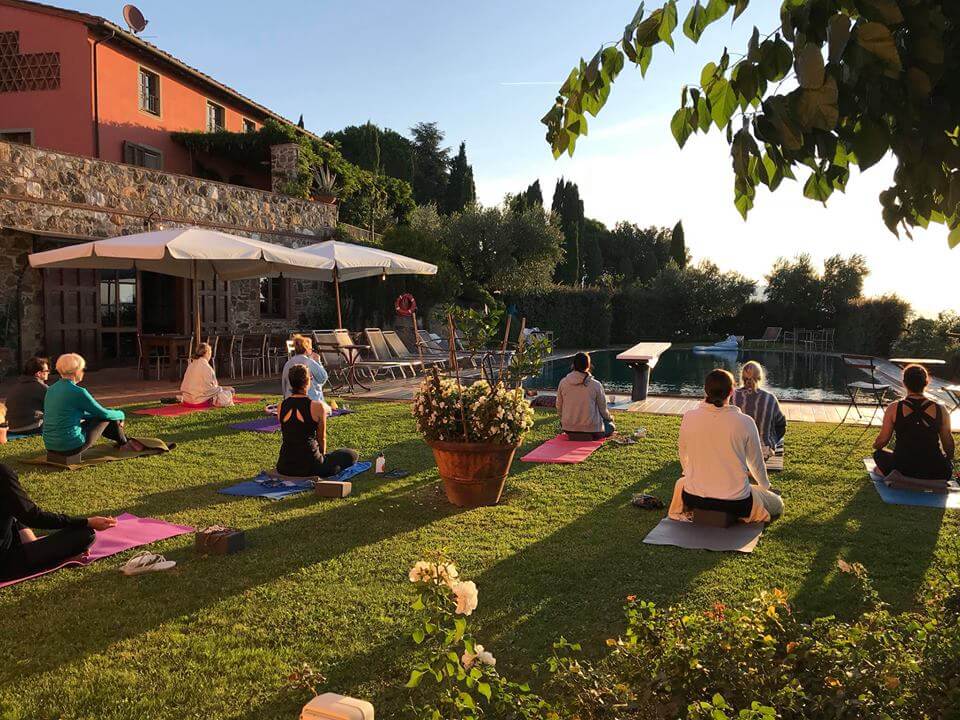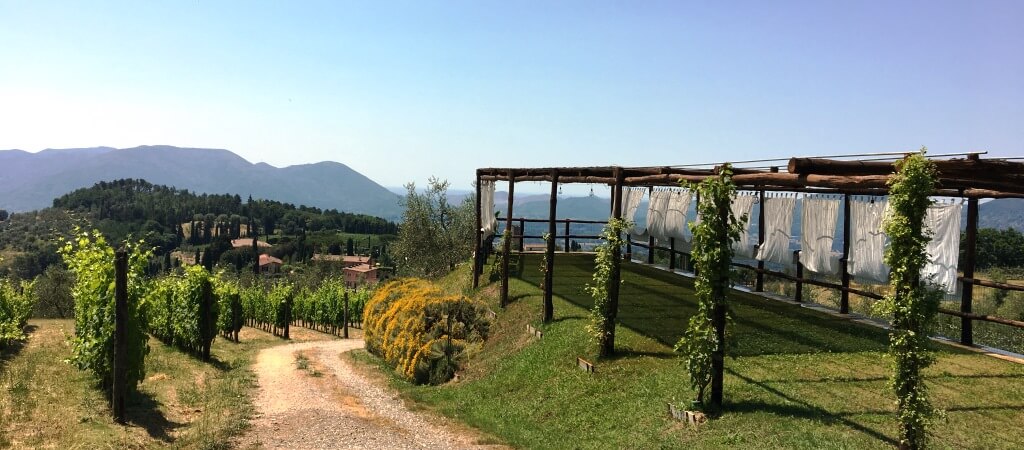 YOGA RETREAT CENTRE – VILLA TRAMONTE
Villa Tramonte retreat center offers the warmth & intimacy of an elegant Tuscan villa in a secluded setting. The fully restored 18th Century estate is surrounded by natural woodlands and overlooks a panorama of olive groves and fruit trees.  With 10 bedrooms and 9 bathrooms our retreat center is ideal for retreat groups of up to 20 people.
The property has been decorated elegantly in classic Tuscan style. With plenty of outdoor tables to eat al fresco, the villa boasts beautiful, landscaped gardens, a swimming pool, a dedicated yoga studio and an outdoor grassed area for practicing yoga.  The estate produces its own fine quality cold pressed oil and seasonal fruit and vegetables.
Ideally located 15 minutes from Lucca, 45 minutes from Pisa, 1.5 hrs from Florence and 1.5 hrs from the breathtaking Cinque Terre region, Villa Tramonte offers an opportunity to truly relax and unwind in a unique location whilst offering the perfect base to explore Tuscany and Liguria.
If you are a retreat leader and would like more information about our retreat centre package, availability and pricing, please complete our enquiry form.
ACCOMMODATION
Villa Tramonte comprises two separate houses that can accommodate up to 20 retreat participants (including teachers).
Main Villa:
1 x double room with double bed + ensuite bathroom  (2 places)
1 x superior twin bedroom with two double beds + ensuite bathroom (2 places)
5 x twin bedrooms * with two single beds + private ensuite bathrooms (10 places)
Second House – First Floor:
3 x twin bedrooms * with 2 x shared hallway bathrooms  (6 places)
*All twin bedrooms with 2 single beds can also be made up as double rooms for couples or single occupancy.
The rooms are simple and furnished tastefully in local Tuscan style.  As the building is old, the walls are very thick which means the villa stays cool in the summer months.  Each house is fully self-contained and offers every facility to meet the needs and privacy of both yoga teachers and retreat guests.   Laundry facilities are also available.
An additional room on the ground floor of the second house is reserved for Yoga in Italy staff to ensure there is always someone on hand to answer any queries during the retreat, help arrange optional excursions and generally make sure everything runs smoothly.
YOGA & MEDITATION FACILITIES
Yoga and meditation are practiced in a beautiful light filled yoga studio with wooden beams and terracotta floors.  The yoga studio is 14m x 5m and can accommodate up to 20 participants.  It is fully equipped with Manduka quality 6mm yoga mats, blankets, round bolsters, rectangular bolsters, yoga straps and blocks.
There are also several grassed terraces which we use in the warmer months for sunrise and sunset yoga sessions. With views overlooking the forest and olive groves, one can fully savor the serenity of the Tuscan countryside.
SWIMMING POOL
There is a lovely swimming pool located away from the villa where retreat guests can cool down after long hikes or simply relax whilst soaking up the tranquility.
COMMUNAL DINING
There is a large communal indoor dining area and several alfresco options to enjoy meals and share experiences together.  There is also a wood-fired pizza oven which we make use of during the retreat.
MEALS
Our retreat menu is vegetarian and we have a wonderful local cook who prepares deliciously fresh dishes based on what is in season and the region's specialties.  As we are in Tuscany, we do indulge in local cheeses, pasta, breads, wines and other delights, so although our menu is not a strict cleanse, we do offer plenty of healthy choices with nuts, seeds, legumes, plenty of vegetables and salads, rice, amaranth, quinoa, buckwheat, fresh fruit and yogurt.
We source our food from local producers and wherever possible, we use organic grains, fruit and vegetables. We also make our own fresh fruit and vegetable juices every morning and offer cleansing herbal teas. Organic wine, olive oil and honey are produced in the surrounding agricultural area and served during our retreats. Upon request, we can cater for gluten free and lactose free dietary requirements.
Our retreat centre is very relaxed and informal – participants are free to help themselves to fresh fruit, water and herbal teas every day.
OPTIONAL IN-HOUSE MASSAGE + HEALING ART THERAPIES
Massages and holistic treatments are available in-house during your retreat to help participants relax, unwind, release tensions and improve well-being. We have a wonderful therapist offers body work and facial treatments which can be booked upon arrival.
INTERNET ACCESS & MOBILE PHONE RECEPTION
WIFI Internet access is available.  However, as we are in the countryside, mobile phone reception can be intermittent. Whilst we recognize the need to stay in contact with friends and loved ones during your retreat, we try to encourage guests to leave their virtual world behind.
WASHING FACILITIES
Washing facilities are available for use by retreat guests.
CHECK-IN AND CHECK-OUT TIMES
Our retreats run for one week from Saturday to Saturday. Check-in is strictly 4:00pm on the day of arrival and checkout is strictly 9:30am on the day of departure. As we often have new retreats starting the same day as one finishes, we ask you to ensure your retreat guests observe these times.